India's First Drone Use Policy – An Analysis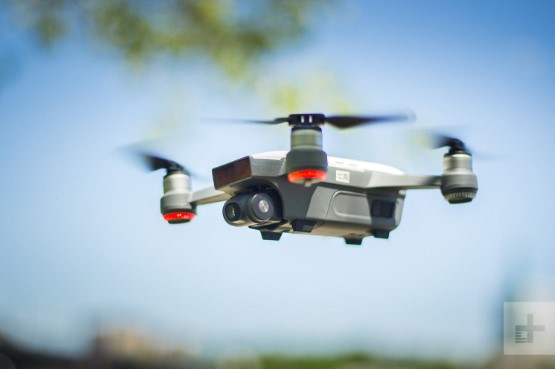 Recently, the Union Ministry of Civil Aviation came up with the guidelines for drones that seeks to create opportunities in the Indian civil aviation sector. The government has established a regulatory framework for drone operations including commercial usage. The regulatory framework will come into force from December 1, 2018. It is the date from when civilian use of drones becomes legal in India.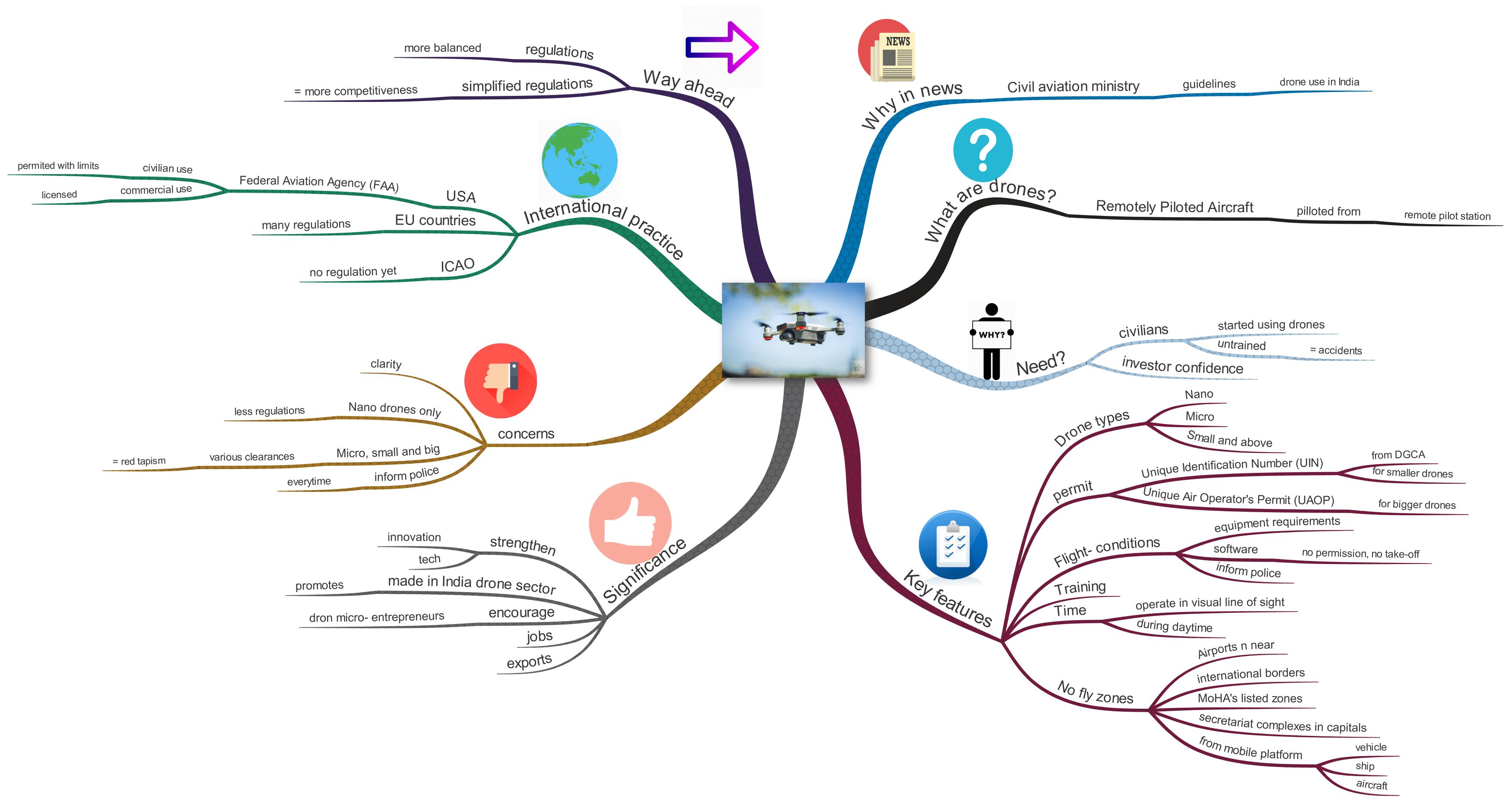 What are drones?
Directorate General of Civil Aviation (DGCA) is the regulator for civil aviation in India.
DGCA defines drones as remotely piloted aircraft (RPA) piloted from a remote pilot station.
The RPA, its connected remote pilot station(s), command and control connections and any other elements forms a Remotely Piloted Aircraft System (RPAS).
The guidelines for operating them come into effect on December 1, 2018.
What is the need for guidelines?
Indian military has been using drones since 1980s, and world's 13 percent of all military drones are in India.
For the past few years, civilians had started flying drones in India. When cost of drones had fallen, civilians began ordering drones from China. However, when civilians who are untrained use drones, it can cause accidents and mishaps.
Therefore, it was essential to create global standard drone regulations that would allow using drones with necessary safeguards.
Further, investor confidence was low due to lack of clarity of legality of drones.
Hence the government announced its first Drone Policy, which can solve all the complications.
What are the key features of the guidelines?
Drone types – DGCA has broadly classified multiple categories of drones into: Nano (weighing up to 250 g), Micro (weighing more than 250 g but less than 2 kg) and Small and above (weighing 2 kg or more)
Permit – Every drone bigger than Nano must get a unique identification number (UIN) from DGCA.
UIN must be displayed on the aircraft, like the registration number of vehicles.
A UIN will be provided once, against a fee of Rs 1,000.
UIN will not be provided to a foreign citizen or entity.
Users of bigger drones will be needed to get a Unique Air Operator's Permit (UAOP).
This is like a driver's licence for normal vehicles.
The permit will cost Rs 25,000 and will be effective for 5 years, and renewal of permit will cost Rs 10,000.
The UIN and UAOP can be received from the online platform Digital Sky that will become live on December 1 2018.
Conditions for flying – All drones, except the Nano ones, must satisfy mandatory equipment requirements.
These include anti-collision light, ID plate, GPS, radio-frequency identification (RFID) and SIM facilities.
Software that make sure of 'no-permission, no-takeoff', among other features, is mandatory.
Before flying a Small or bigger drone, an operator has to provide a flight plan, and communicate with the local police. This is for the drone to reach a height of 400 feet or more, and utilize controlled as well as uncontrolled airspace.
Micro drones will be needed to file a flight plan only if utilizing controlled airspace. But the operator should inform the local police in all situations. Several drones utilized for amateur photography comes into in this category. These aircraft will require a UIN but not UAOP, and will be permitted to reach only to a height of 200 ft.
Nano drones will be allowed to fly freely, without any registration or permit. But their operations will be limited to 50 feet above the ground. It is also restricted to enclosed premises and uncontrolled airspaces.
Training – All those who need a UAOP should undertake a 5-day training programme.
This will give them knowledge about regulations, basic flight principles, and air traffic control procedures.
They will also be taught on meteorology and weather, emergency identification and handling and so on.
These operators will also need to take written as well as flight simulator tests before they are given permits.
Time – All types of drones must be operated in the visual line of sight, and only during daytime.
However photography using drones is permitted in well-lit enclosed premises.
Before flying, it would still be mandatory to inform the local police.
No-fly zones – DGCA has listed twelve categories of no-drone areas.
These are the areas up to 5 km from the perimeters of the high-traffic airports of Chennai, Mumbai, Delhi, Kolkata, Bengaluru and Hyderabad.
For other airports, the no-drone zone ranges up to 3 km.
Drones cannot be operated closer than 25 km of international borders, including the Line of Actual Control and Line of Control.
The area within a five km radius of New Delhi's Vijay Chowk is a no-drone area. However this depends on any additional restrictions of local law enforcement authorities for security purposes.
The Ministry of Home Affairs can inform about the perimeter of vital installations and strategic locations. A drone cannot be operated within 2 km from the perimeter of such zones, unless permitted by the Ministry.
A drone can also not be operated within a three km radius of secretariat complexes in capitals of state, and from a mobile platform like a moving vehicle, ship and aircraft.
What is the significance?
India is among the largest importers of drones. So the drone policy seeks to regulate the practice of civilians flying drones in India.
The drone market in India has the capacity of hitting over $1 trillion.
The guidelines would help strengthen innovation and technology in the development of drones.
The regulations will promote a huge Made in India drone sector.
It will put India among the global leaders in the technology of drones.
The policy will encourage a new idea of "drone micro-entrepreneurs" in India.
The commercial drone industry would create job opportunities for the youth in India.
Drones can serve the export market as well.
What are the concerns?
Lack of clarity on the recently published drone regulations might impact competitiveness on this field.
There is very less regulation for flying a nano drone up to 50 m height, except for not flying near military sites, airports, or in enclosed airspace.
From the micro category, every drone must get a unique identification number (UIN) from the DGCA. It will be followed by a long list of documentation such as security clearances from the Ministry of Home Affairs (MHA) in many cases.
Once the UIN is received, drone operators have to apply for an Unmanned Aircraft Operator Permit (UAOP) which needs more forms, annexures and submissions.
Even for the micro drones that climb only up to a height of 200 feet, users have to inform the local police station twenty four hours before the flight.
Makers of drones, technologists and researchers making applications using drones need to test fly drones frequently, often many times a day.
All these are making way for possible red-tapism.
With many government authorities involved in giving permission, it is unavoidable that operators could face violations.
To avoid this ordeal, the regulation gives a list of identified zones for testing and demonstration so that flying drones in these zones comes with few paperwork.
But, the locations given are far from technology and development hubs that highly complicates practical testing of these drones.
For instance, in Karnataka, the identified zones are Chitradurga, Ganimangala  and Coorg, all of which are around 200 kilometers from Bengaluru requires nearly 4 hours of travel one way.
What is the global practice on drone regulations?
In the United States, the Federal Aviation Agency (FAA) permits the civilian usage of drones with some restrictions, whereas their commercial use is licensed.
Several countries in the European Union (EU) presently have many regulations in place covering drone flights.
Various countries are still experimenting with their drone regulations.
The International Civilian Aviation Organisation (ICAO) haven't developed any drone use regulations as of now.
Way ahead
The privacy and security risks of allowing drones to operate in an unregulated manner are high. If India is to achieve even the fraction of the $1 trillion potential, it requires to create more balanced manner of regulation.
The government made a good start by legalising flying of all drones. However, the real impact of drones can only be seen in the several applications they will be put to. They are likely to be utilized in disaster prevention systems, rescue operations, agriculture, and even public transport providers in the future. This should not be impacted by filing a number of applications in many copies and awaiting several government departments to respond. Therefore any complicated regulations will generate serious risks affecting India's competitiveness in the field.
Practice Questions:
"With growing applications of drones by civilians, the recently released Drone use policy will prove to an effective mechanism in regulating drone usage in India". Discuss with your viewpoint.
The drone use policy of India makes the possibility of a red-tape free flight very slim. Critically analyze.