Domestic Violence in India – All you need to know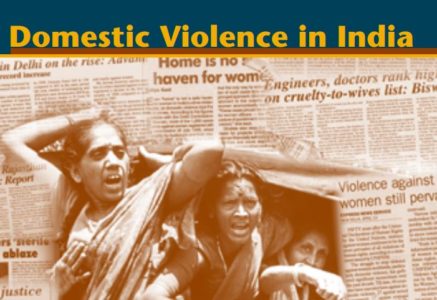 Violence against women in India is an issue deeply rooted in societal norms and economic dependence. Female feticide, domestic violence, sexual harassment and other forms of gender-based violence constitute the reality of most girls' and women's lives in India. During the first four phases of the COVID-19-related lockdown, Indian women filed more domestic violence complaints than recorded in a similar period in the last 10 years. But even this unusual spurt is only the tip of the iceberg as 86% of women who experience domestic violence do not seek help in India. In this context, let's make a detailed examination of the domestic violence against women in India.

Mindmap Learning Programme (MLP)
Absorb information like a sponge!
Domestic Violence Against Women in India
Violence against women is a widespread problem, with appalling physical, sexual, emotional, psychological and economic consequences for girls and women.
It affects women of every age, in every society and every socio-economic group.
Violence against women refers to any act of gender-based violence that results in, or is likely to result in physical, sexual, or psychological harm or suffering to women, including threats of such acts, coercion or arbitrary deprivation of liberty, whether occurring in public or private life.
Domestic violence in India includes any form of violence suffered by a person from a biological relative, but typically is the violence suffered by a woman by male members of her family or relatives.
Domestic violence refers to any act of violence in the house – It includes differential treatment of girls, wife-beating and abuse, torture of daughters-in-law and neglect of widowed women in the family.
As per the National Family Health Survey IV conducted in 2015–2016, 31.1% of married women aged 15-49 years experienced spousal violence at least once in their lives.
The National Crime Records Bureau reports that, "Majority of cases under the category of 'crimes against women' as recognized by the Indian Penal Code was registered under 'Cruelty by Husband or His Relatives' (31.9%)."
What are the manifestations of Domestic Violence against women?
Physical Abuse:
Hurting to cause physical injury, Lack of control over reproductive rights and health etc.
Mental Abuse:
Threats, verbal abuse etc.
Sexual Abuse:
Rape (Marital Rape), forced sexual acts etc.
Economic or property abuse:
Stealing or destroying personal belongings, demanding money, withholding basic needs such as food and clothing, not allowing the women to work.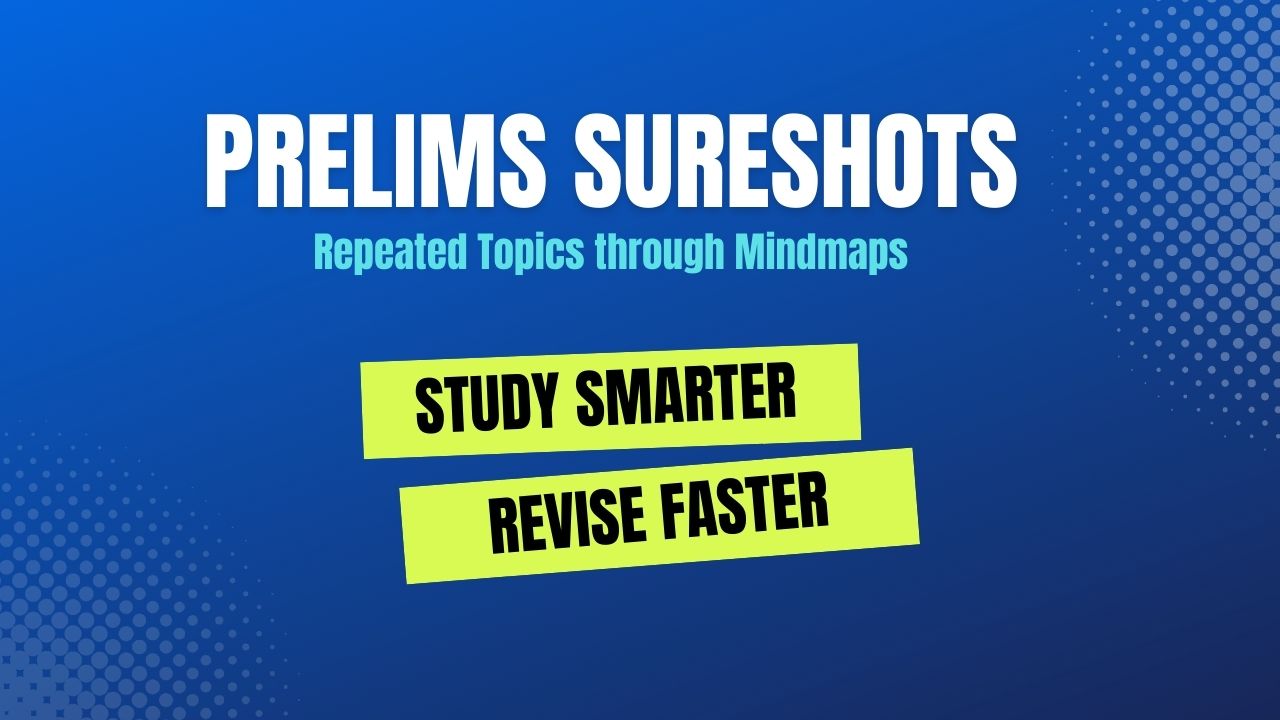 What are the major causes for Domestic Violence against women?
Historical Factors:
Historical factors can be traced back to the inherent evil of patriarchy and superiority complex that has prevailed for centuries among men.
Cultural Factors:
Cultural Factors leading to domestic violence include the desire for a male child.
This obsession resulting from the lack of awareness and inherent male superiority leads to perpetration of domestic violence against women.
This is not an exhaustive list of factors and the motivations or triggers behind domestic violence may vary.
Sociological/Behavioral Factors:
The sociological, behavioural and cultural factors include factors like:

Anger issues/aggressive attitude
Poverty/economic hardship
Difference in status
Controlling/dominating nature
Drug addiction
Upbringing and psychological instability (bipolar, depression, stress, etc.)
Neglect of conjugal responsibilities due to extra-marital affairs or lack of trust also contributes to domestic violence.
Religious Factors:
A subtle form of domination on women, if not direct and glaring, reflects in the religious sanctifications.
This also contributes to the perpetration of domestic violence against women.
Dowry:
Dowry is a form of socio-cultural factor. But, it becomes important to separately mention it because of the rampant domestic violence cases resulting from the illegal demand of dowry.
Consequences of Domestic Violence
There are varied consequences of domestic violence depending on the victim, the age group, the intensity of the violence and frequency of the torment they are subjected to.
The consequences of domestic violence in detail can be broadly categorized under –
The Effect on the victim and the family
Physical Effect:
Health issues like injuries, internal bleeding etc. are some of the acute effects of a domestic violence incident that require medical attention and hospitalization.
Often domestic violence causes many chronic diseases to the victims in the latter part of their life.
Victims who are pregnant during a domestic violence relationship experience greater risk of miscarriage, pre-term labour and injury to or death of the fetus.
Psychological Effect:
Among victims who are still living with their perpetrators, high amounts of stress, fear and anxiety are commonly reported.
Depression is also common, as victims are made to feel guilty for 'provoking' the abuse and are frequently subjected to intense criticism
Effect on Children:
Domestic violence has severe effects on the children of victimized women.
Children who are exposed to domestic violence while growing up can suffer from a range of emotional disturbances and behavioural problems, which can lead to perpetrating or being victims of violence later in life.
There is a chance that the witnessed or victimized children may believe that violence is a reasonable way to resolve the conflict between people and also boys who learn that women are not to be valued or respected and who witnessed violence against women are more likely to abuse women when they grow up.

The Effect on the society

The social and economic costs of intimate partner and sexual violence are enormous and have ripple effects throughout society.
Domestic violence tears the very fabric of a community by dismantling family units and causing a ripple effect of repercussions that are felt for many years.
One of the most lasting consequences of domestic violence is the harm it does to family bonds.
Children witnessing violence committed against their parent can find it difficult to trust adults in the future. It compromises their attachment to the person that should love and protect them, weakening the family unit.

The Effect on the nation's growth and productivity

A working Indian woman may lose her efficiency in work or drop out from work in some cases.
Domestic violence affects women's productivity in all forms of life i.e. assaulted women will always get agonized and get emotionally disturbed.
Laws against Domestic Violence in India
Dowry Prohibition Act, 1961 intended to prevent the giving or receiving of a dowry.
Domestic violence was recognized as a specific criminal offence by the introduction of section 498-A into the Indian Penal Code in 1983. This section deals with cruelty by a husband or his family towards a married woman.
The legislation 'The Protection of Women from Domestic Violence Act, 2005 was introduced by the parliament to prevent violence against women and to protect the rights of aggrieved women.
Why Women bear Domestic Violence?
Some of the major reasons behind women's calmness against domestic violence includes:
Children

The Children are utmost important to the parents. Most of the domestic violence cases, women do not report outside because of their children. This is the main reason behind women's calmness against domestic violence.

No Support from Family

After getting married women will be slowly neglected by her parents. This forces her to stay with her husband even if he is torturing her.
She desperately needs her parents support or other family members support. So, to survive and lead her life, she cannot leave her husband even if she is going through domestic violence.

Responsibilities

Even though women are not self-sufficient, supportive and not economically independent, she has some responsibilities to fulfil. After leaving her husband, how will a woman manage her expenses? Often non – working women are faced with such grave questions.
She is not interested to be a burden on her own family and wants to live independently. Due to the fear of unable to take up her own responsibility she chooses to stay back with her husband in silence.

Society

In our society, failed marriages and divorces are not treated well by the society.
To avoid gossips and rumours victimized women stay in silence and rather than going against the social rules.

Safety Reasons

Safety is one of the important factors which play a great role in making a victim of domestic violence mum.
After breaking the relationship or filing a case against due to domestic violence the fear of safety leads a woman to bear domestic violence.
COVID-19 and Domestic Violence
As the battle against the coronavirus wages outside, one-third of the world's population is confined within four walls, adapting to work from home, many even staring at pay cuts and job losses. These situations have led to pronounced mental health issues across the globe.
Impact on mental health can have severe repercussions of violence against vulnerable groups like adolescents and women, for whom home is no longer the ideal sanctuary.
Economic insecurity, uncertainty and living within closed spaces can cause high-stress environments, encourage substance abuse and lead to risk of violence against the partner and children.
The unavailability of alcohol amid the national lockdown had a direct correlation to the rising number of domestic distress calls, which spiked by 200% in the country.
It was primarily a result of the withdrawal syndrome and increased the threat to the safety of women and adolescents.
In 2020, between March 25 and May 31, 1,477 complaints of domestic violence were made by women. This 68-day period recorded more complaints than those received between March and May in the previous 10 years. This can be seen as an alarming rise.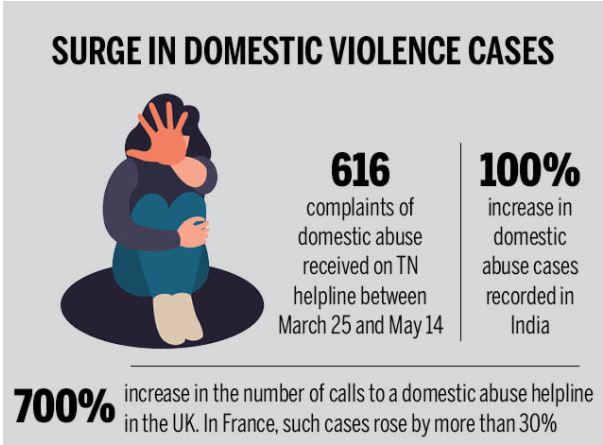 What are the pathways to violence during the pandemic?
VAW/C stands for violence against women or children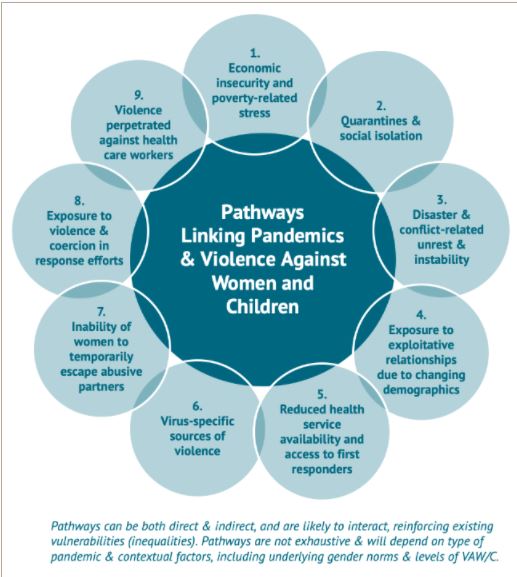 What can be done to make women and children safer during a pandemic?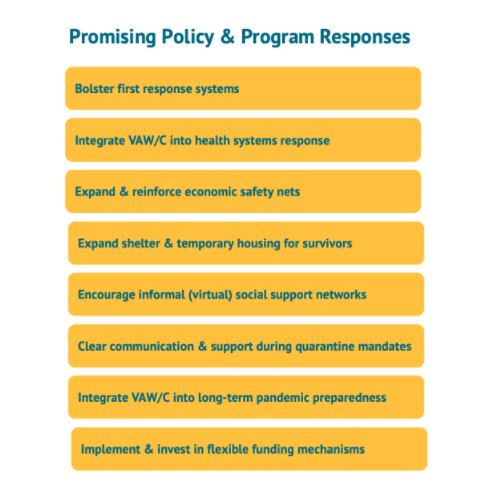 Way forward
Intervention and action at multiple levels
Elimination of all kinds of violence against women requires channelizing simultaneously the attention and efforts of all the concerned people and work together.
This sensitive issue needs intervention and action at multiple levels – state, society and individuals in public and private capacities.
1. At government, Police, Judiciary level:
Amongst immediate steps, the most important task of government is to arrest continuously deteriorating law and order situation.
There should be vigilant policing round the clock both in cities and suburban areas and more women police officers in all police stations
Speedy and time-bound justice is needed urgently. Delayed justice emboldens the spirits of criminal-minded elements in society, who take advantage of loopholes in the law, and which enables them to escape.
Reforming the structure and systems of governmental institutions engaged in the law-making and enforcement tasks are highly desirable, but it may take a longer time.
Non-governmental organizations and institutions should conduct a series of seminars, workshops, meetings at different places on various aspects of violence/oppression against women.
3. Media:
Media should bring women issues to the public domain in a forceful manner. They can play an important role in spreading awareness.
They can provide a platform to speakers and panellists from different fields, eminent personalities responsible for decision-making to share their views and conduct an in-depth study on various gender issues, and view it holistically touching various aspects of the problem.
4. At family's level
Family is the first and foremost institution, where children learn the first lesson of humanity and social relationships.
Family is the best place to inculcate positive values – like honesty, simplicity, modesty, sense of responsibility and respect for elders – amongst children and youth of both the sexes.
Training for gender sensitization should be imparted within the family. Right from the beginning, all the children should be treated equally, without any gender-bias.
5. On women's part
Instead of silently bearing all the atrocities perpetrated against them, women should raise their voice against injustice; create awareness amongst women about their rights and channelize their efforts by writing articles, organizing seminars, workshops etc.
6. Role of Social Workers
Social workers should provide myriad services to victims and perpetrators of domestic violence.
Direct services to victims of domestic violence include counselling and support through shelter programs across the country, individual counselling through private practice settings, court advocacy through county victim service agencies, and social justice community organizing efforts to prevent domestic violence from occurring in the first place.
Conclusion
India has various statutes governing the rights of women; Rights of Women are secured under the Constitution of India – mainly equality and freedom from discrimination. But still violence against women has no end. Domestic violence may have a wider and deeper impact in the life of the victims and also the children belong to that family.
A proper societal – legal environment has to be built to make the houses safe and secure for women. A nation or a society cannot prosper by keeping half of its population under distress.
Practice Question for Mains
Domestic violence against women is nothing but a violation of basic human rights. Elaborate(200 Words)