Dairy Sector in India – Evolution, Challenges and Way Forward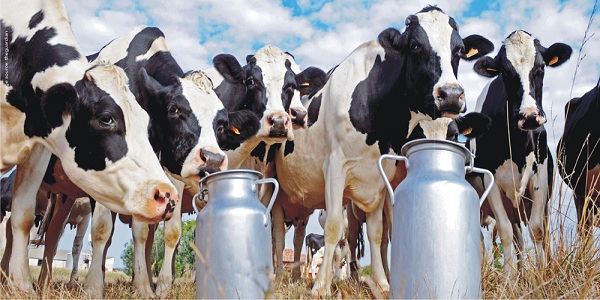 The first wave of the Covid-19 pandemic was a huge blow to the Indian economy but the effects of the second wave are no less. Given all the sectors of the economy suffering, it has become quite difficult for the dairy sector to thrive. In the Indian farm-dependent population comprising cultivators and agricultural labourers, those involved in dairying and livestock constitute 70 million. Milk production provides great support to farmers. However, given the nature of production and sale of milk in India, milk producers are highly susceptible to even minor shocks as the demand for milk and milk products are sensitive to changes in the employment and income of consumers. The second wave of the pandemic has posed a heavy blow to the dairy sector in India. With various issues plaguing the sector, the pandemic has made the milk producers face an unprecedented livelihood crisis. It is time that the issues are looked into and a lasting solution is reached.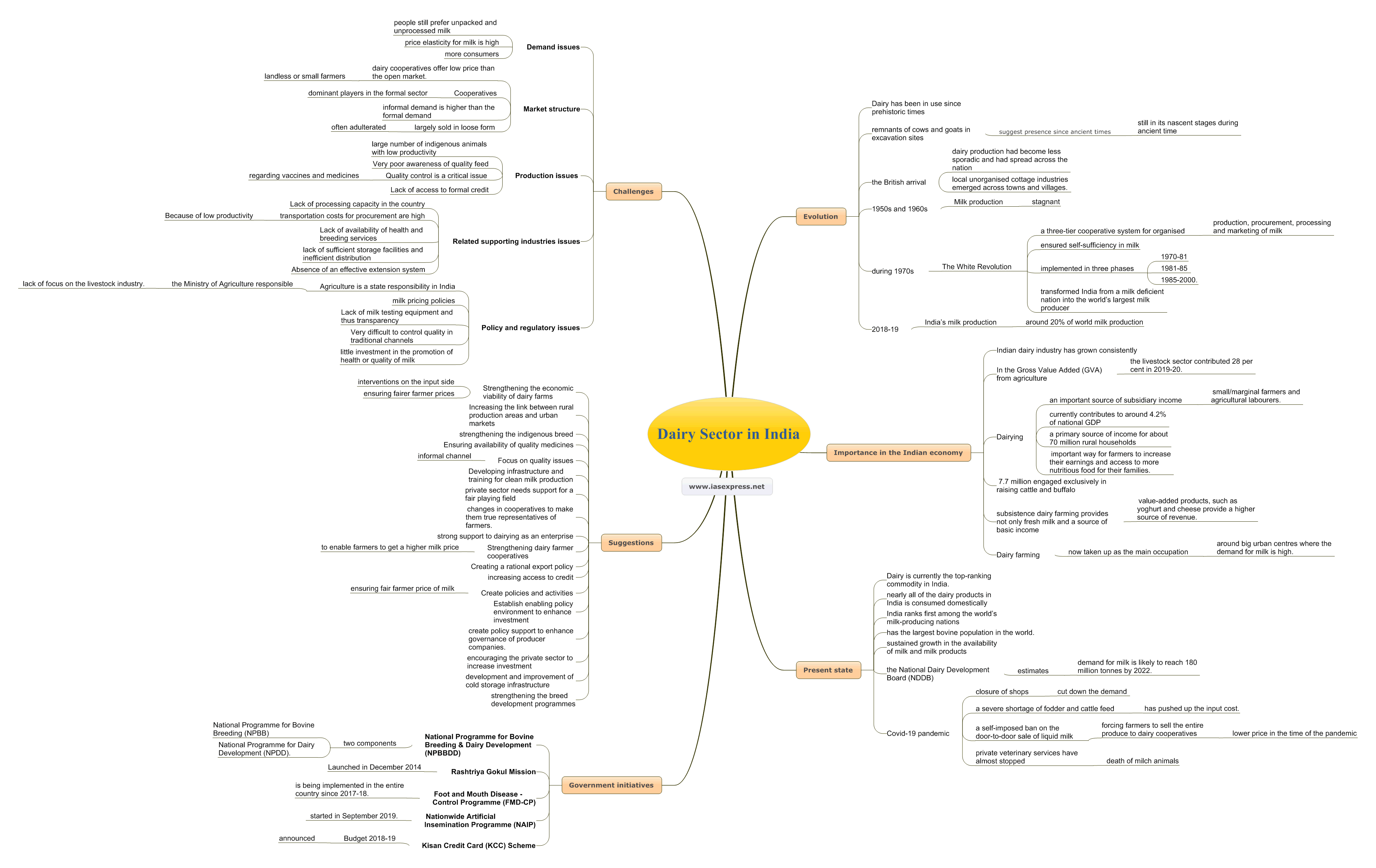 Mindmap Learning Programme (MLP)
Absorb information like a sponge!
Evolution of the dairy sector in India
Dairy has been in use since prehistoric times.
In India, the presence of remnants of cows and goats in excavation sites suggest that dairy may have been in use at least since the Harappan Civilisation.
Dairy production was still in its nascent stages during ancient time as the distribution was restricted by socioeconomic status, geographical availability, and cultural preferences.
Around the time that the British arrived to begin their colonial rule, dairy production had become less sporadic and had spread across the nation. By this time, local unorganised cottage industries emerged across towns and villages.
Milk production in the country was stagnant during the 1950s and 1960s, and annual production growth was negative in many years.
The White Revolution in India initiated during the 1970s with the organising of smallholder dairy farms under a three-tier cooperative system for organised production, procurement, processing and marketing of milk ensured self-sufficiency in milk. It was implemented in three phases: 1970-81, 1981-85 and 1985-2000.
Milk production in 1968-69 before the launch of Operation Flood was only 21.2 million tonnes (MT) which increased to 30.4 MT by 1979-80, 51.4 MT by 1989-90 and 84.6 MT by 2001-02.
It also transformed India from a milk deficient nation into the world's largest milk producer, surpassing the USA in 1997-98.
India has been the largest milk-producing country in the world for the last 22 years.
In 2018-19, India's milk production stands at around 176.4 million tonnes(MT) which is around 20% of world milk production.
Milk production has been growing at Compounded Annual Growth Rate (CAGR) of 4.5% over the last 20 years compared to around 2% CAGR of the world.
Importance of dairy sector in the Indian economy
The Indian dairy industry has grown consistently ever since the White Revolution of the 1970s, making India, the world's largest producer of milk.
In the Gross Value Added (GVA) from agriculture, the livestock sector contributed 28 per cent in 2019-20.
Dairying is an important source of subsidiary income to small/marginal farmers and agricultural labourers. 
After Operation Flood (OF), the Indian dairy and animal husbandry sector, which currently contributes to around 4.2% of national GDP, emerged as a primary source of income for about 70 million rural households –most of them either landless, small or marginal farmers.
Milk production in India is growing by 6.4% during the last five years and has increased from 146.3 million MT in 2014-15 to 187.7 million MT in 2018-19.
However, India exports a relatively smaller volume of dairy products and has a small share in the global dairy trade despite being the largest milk producer in the world.
Moreover, in the total workforce of 7.7 million engaged exclusively in raising cattle and buffalo, 69 per cent of them are female workers, which is 5.72 per cent of the total female workforce in the country, of which 93 per cent live in rural areas.
Dairy farming is an important way for farmers to increase their earnings and access to more nutritious food for their families.
While subsistence dairy farming provides not only fresh milk and a source of basic income, value-added products, such as yoghurt and cheese provide a higher source of revenue.
The manure from animals provides a good source of organic matter for improving soil fertility and crop yields.
Dairy farming is now taken up as the main occupation around big urban centres where the demand for milk is high.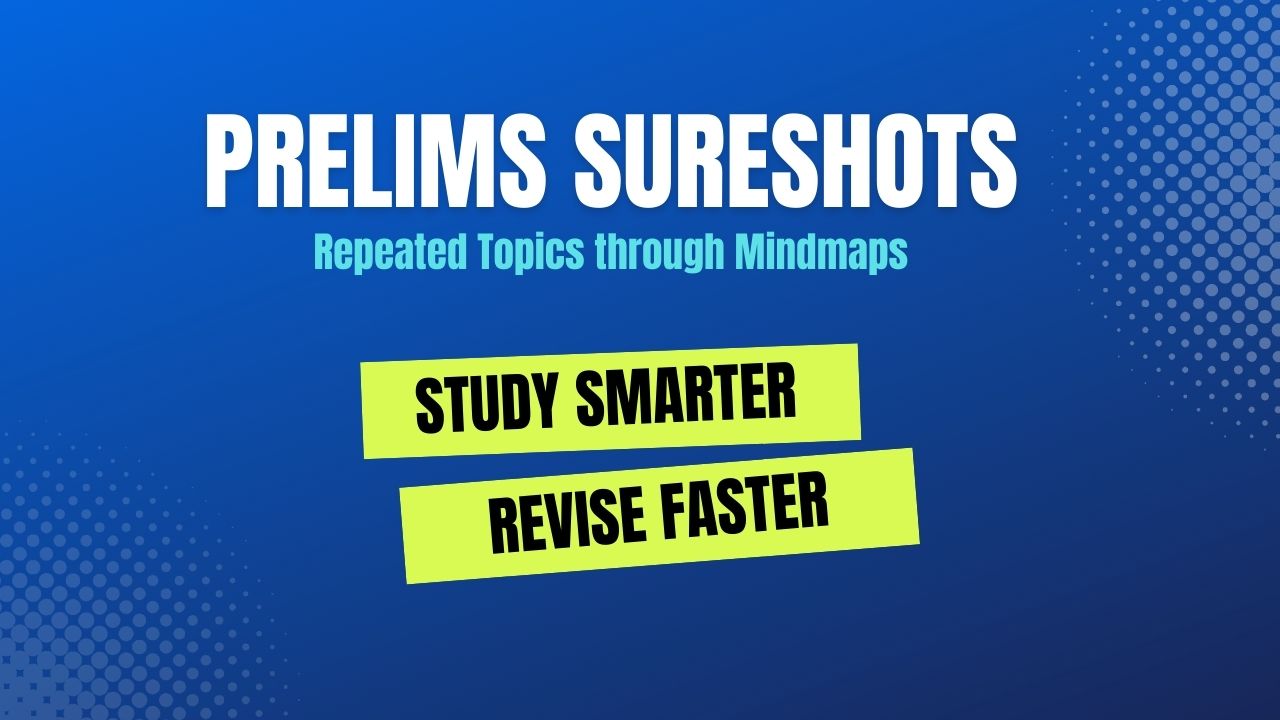 The present state of the dairy sector
Dairy is currently the top-ranking commodity in India. Moreover, nearly all of the dairy products in India are consumed domestically, with the majority of them being sold as fluid milk. On account of this, the Indian dairy industry holds tremendous potential for value-addition and overall development.
India ranks first among the world's milk-producing nations since 1998 and has the largest bovine population in the world.
There is sustained growth in the availability of milk and milk products for our growing population.
In light of the increasing demand driven by the growing population, higher incomes and more health consciousness, the slowdown in dairy industry growth is severely worrisome.
Based on estimates by the National Dairy Development Board (NDDB), the demand for milk is likely to reach 180 million tonnes by 2022.
In the absence of sufficient increased production, India will need to rely on the world market for imports.
Though the value of milk produced outweighs the combined value of the output of wheat and rice in India, there is no official and periodical estimate of the cost of production and Minimum Support Price for milk.
During the Covid-19 pandemic, the closure of shops had cut down the demand for milk and milk products while a severe shortage of fodder and cattle feed has pushed up the input cost.
There has been a self-imposed ban on the door-to-door sale of liquid milk by households both in urban and rural areas, forcing farmers to sell the entire produce to dairy cooperatives at a much lower price in the time of the pandemic.
Further, private veterinary services have almost stopped due to Covid-19, which has led to the death of milch animals.
Overall, the dairy sector despite being a successful sector is in shackles of slowdown and needs support.
Challenges faced by the dairy sector
Demand issues

Demand for dairy products in India is likely to grow significantly in the coming years, driven by more consumers, higher incomes and greater interest in nutrition.
Consumption of processed and packaged dairy products is increasing in urban areas. Because of the increasing competition from the private sector, several national and international brands have entered the market and expanded consumers' expectation of quality – although only among a small proportion of the population.
In many parts of the country, people still prefer unpacked and unprocessed milk delivered by a local milkman because of its taste and the perception of freshness.
The price elasticity for milk is high, thus demand for milk is very sensitive to price changes.

Market structure

Cooperatives traditionally were the dominant players in the formal sector. With the liberalization of the dairy industry, private investment has increased quite significantly.
Even though dairy cooperatives handle about 40 per cent of the total marketable surplus of the milk in the country, they are not a preferred option of landless or small farmers. This is because the dairy cooperatives offer low price than the open market.
The informal demand is higher than the formal demand.
In the informal market, it is largely sold in loose form and s often adulterated with several additives to control spoilage.

Production issues 

A large number of indigenous animals with low productivity, a small portion of cross-breed and a lack of policy focus on strengthening indigenous breeds.
Very poor awareness of quality feed, which hinders productivity. Farmers are not interested in quality feed because of the low price of milk and increasing feed costs.
Recurring droughts and floods affect the production of fodder in India. Sufficient quantities of feed and fodder are required for proper animal rearing and milk production.
Lack of proper feed and fodder for milch animals, due to high usage of agricultural crop residues by producers of fibreboard, paper and liquid fuels, affect its availability for dairy production and milk processing.
Quality control is a critical issue regarding vaccines and medicines. Availability of duplicate and cheap medicines is rampant.
Lack of access to formal credit. Even if credit is available, the interest rates are very high.

Related supporting industries issues

Lack of processing capacity in the country, including primary processing by bulk chilling.
Because of low productivity, transportation costs for procurement are high.
Lack of availability of health and breeding services.
The lack of sufficient storage facilities and inefficient distribution are hampering the growth of the Indian dairy and milk processing industry.
Absence of an effective extension system.

Policy and regulatory issues

Agriculture is a state responsibility in India, and the State Department of Animal Husbandry, Dairying and Fisheries, within the Ministry of Agriculture, is responsible for the dairy activities. Consequently, lack of focus on the livestock industry.
There are several issues related to milk pricing policies. Therefore, incomes are volatile and risky.
Lack of milk testing equipment and thus transparency, leading to low payments.
Very difficult to control quality in traditional channels.
Very little investment in the promotion of health or quality of milk.
Suggestions
A large number of small and marginal farmers involved in dairying. Strengthening the economic viability of dairy farms by interventions on the input side as well as ensuring fairer farmer prices may help.
Increasing the link between rural production areas and urban markets as an effective marketing channel helps to meet the demands of the urban consumer.
Given a large number of animals, there is a huge scope for strengthening the indigenous breed to help significantly enhance productivity.
Ensuring availability of quality medicines by strengthening the regulatory framework for quality.
A large share of milk (70–85%) of the marketable surplus goes through the informal channel where quality is a big concern. Focus on quality issues even in the informal channel by training traders and by enforcing food quality regulations could help.
Sometimes quality is an issue in the formal channel as well. Developing infrastructure and training for clean milk production will be a positive step forward.
Little competition to cooperatives because the private sector was not allowed to participate until recently. The private sector needs support for a fair playing field.
Farmers do not share in the benefits of high demand because of the poor governance of cooperatives. There is a need to bring about changes in cooperatives to make them true representatives of farmers.
Milk production is scattered over a large number of farmers producing minuscule quantities. There needs to be strong support to dairying as an enterprise to encourage commercial dairy farming and encourage production and productivity by extension and breed development.
Low milk prices because of lower prices declared by cooperatives, which results in low prices of milk paid by all players. Strengthening dairy farmer cooperatives to enable farmers to get a higher milk price may help.
Ad hoc export policies, a ban on exports, quality of milk and milk products are a barrier to entry to the export market. Creating a rational export policy to enable farmers to take advantage of higher prices and strictly implementing quality regulations and improving infrastructure and training for quality will go a long way.
Credit issues can be solved by increasing access to credit through dairy farmer organizations and other agencies.
Create policies and activities geared towards enhancing dairy farming activity by increasing, production, productivity and ensuring fair farmer price of milk.
Establish enabling policy environment to enhance investment and create policy support to enhance governance of producer companies.
Other suggestions include encouraging the private sector to increase investment in dairying, development and improvement of cold storage infrastructure and strengthening the breed development programmes.
Government initiatives
National Programme for Bovine Breeding & Dairy Development (NPBBDD)

The particular scheme was formulated by merging four schemes of the Department of Animal Husbandry and Dairying. These are National Project for Cattle and Buffalo Breeding (NPCBB), Intensive Dairy Development Programme (IDDP), Strengthening Infrastructure for Quality and Clean Milk Production (SIQ and CMP) and assistance to cooperatives.
NPBBDD has two components – National Programme for Bovine Breeding (NPBB), and National Programme for Dairy Development (NPDD).
NPBB focuses on the extension of the Field Artificial Insemination (Al) Network, monitoring of Al programme, development and conservation of indigenous breeds and establishment of breeders' associations and societies to encourage conservation and development of recognized native breeds of cattle and buffalo.
The NPDD component focuses on creating infrastructure related to production, procurement, processing and marketing of milk by milk unions/federations and also extension activities including training of farmers.

Rashtriya Gokul Mission

Launched in December 2014 for the development and conservation of indigenous breeds through selective breeding in the breeding tract and genetic up-gradation of the non-descript bovine population.
The scheme comprises two components namely National Programme for Bovine Breeding (NPBB) and National Mission on Bovine Productivity (NMBP).
The scheme aims for the development and conservation of indigenous breeds, enhancing milk production and productivity of bovine population by increasing disease free high genetic merit female population and check on the spread of diseases, distribution of disease-free high genetic merit bulls for natural service, to arrange quality Artificial Insemination (AI) services at farmers' doorstep, to create e-market portal for bovine germplasm for connecting breeders and farmers, to increase trade of livestock and livestock products by meeting out sanitary and phytosanitary (SPS) issues and to select breeding bulls of high genetic merit at a young age through the application of genomics.

Foot and Mouth Disease – Control Programme (FMD-CP)

The programme is being implemented in the entire country since 2017-18.
To control FMD in the country and to minimize the economic losses due to disease, National Level Mission Mode efforts are in place to control FMD through a country-wide vaccination and stringent biosecurity arrangements implemented under Foot and Mouth Disease Control Programme (FMD-CP).

Nationwide Artificial Insemination Programme (NAIP)

The scheme was started in September 2019.
The major benefit to the farmers is free of cost AI of their dairy animals.
Other benefits of the scheme include; providing doorstep reliable AI, the birth of genetically superior male and female bovine breeds, increase in milk production, adoption of AI by farmers, increase in farmers' income, etc.

Kisan Credit Card (KCC) Scheme

In the Budget 2018-19, the Union Government announced their decision to extend the facilities of Kisan Credit Card (KCC) to Animal Husbandry farmers and Fisheries (AH & F) to help them meet their working capital requirements.
The KCC facility is designed to meet the short term credit requirements of rearing dairy animals.
Conclusion
The dairy sector plays a key role in the economy by providing livelihood opportunities for a large section of the population both in urban as well as rural areas. Due to various factors, the sector faces numerous challenges and thus it becomes important that adequate steps are taken to ensure the sustainability of the sector. Appropriate policy support and removal of tariff and non-tariff barriers may help the sector thrive in the coming time.
Practise question
Write a note on the role played by the dairy sector in India and various challenges that ail the sector.