City Gas Distribution (CGD) & National Gas Grid (NGG) – Significance & Challenges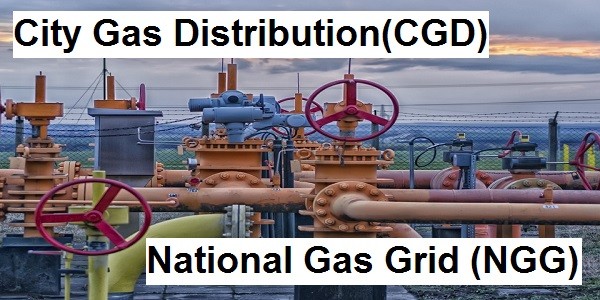 Mindmap Learning Programme (MLP)
Absorb information like a sponge!
What is the Context?
PNGRB will launch the 11th City Gas Distribution round soon
The Ministry of Petroleum and Natural Gas released a draft city gas distribution policy
The Union budget 2020 declared that about 27,000 km of national gas grid pipeline would be completed in the coming years connecting Kutch to Kohima and Kashmir to Kanyakumari.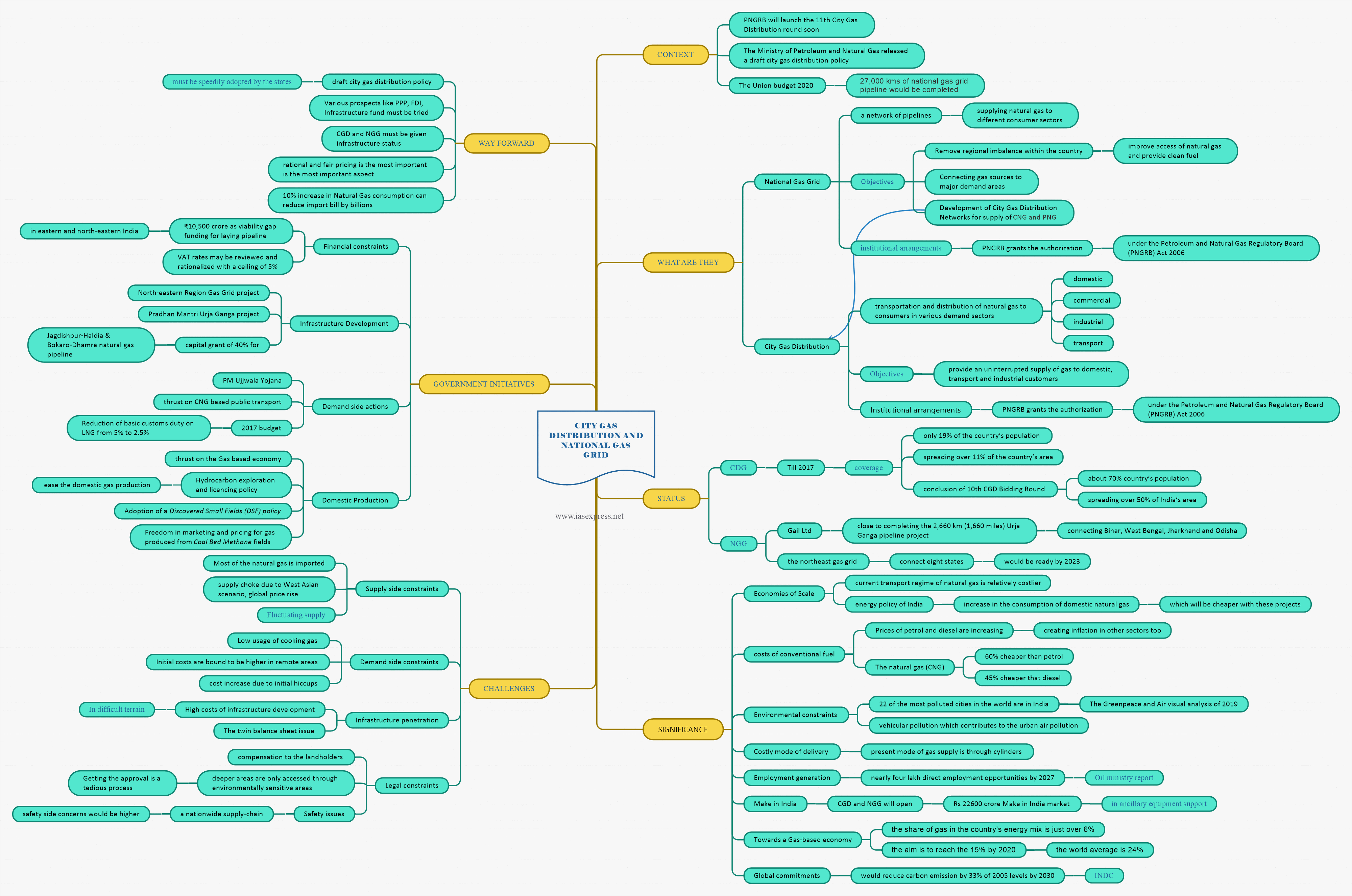 What is the National Gas Grid?
National Gas Grid is a network of pipelines supplying natural gas to different consumer sectors across the country. The national gas grid is an ambitious project in a bid to improve the infrastructural scenario of the demand side.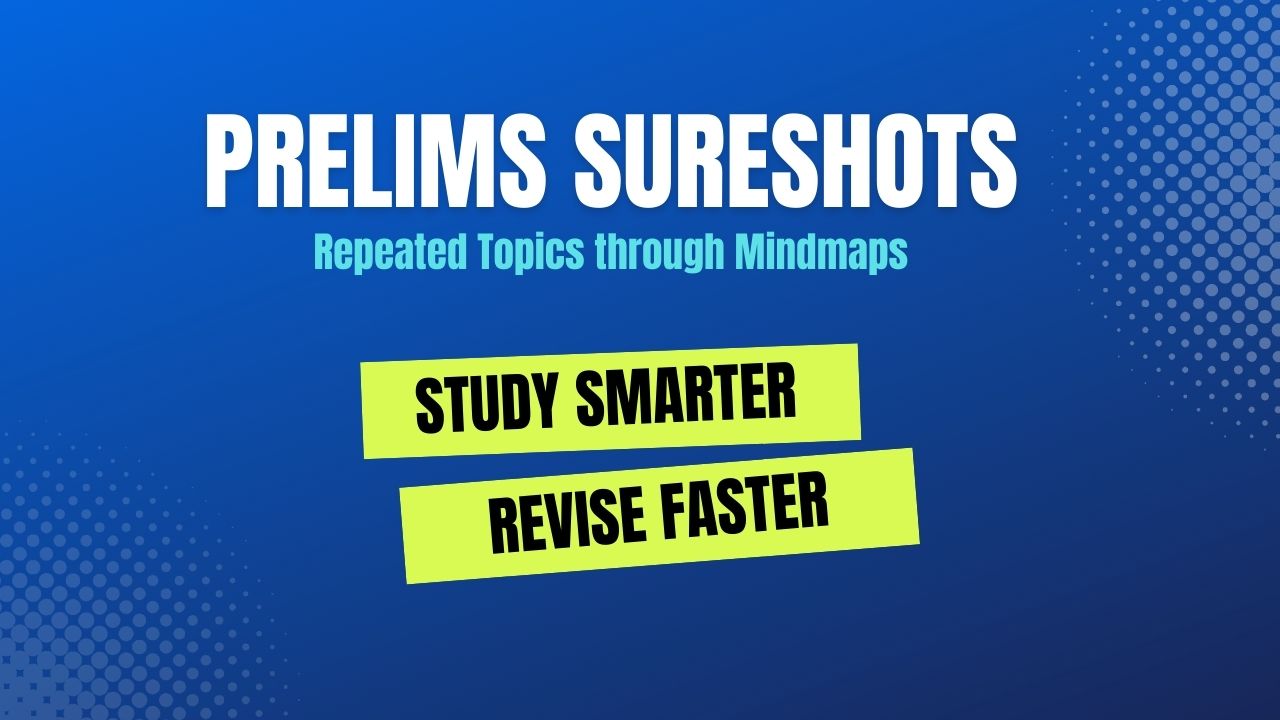 What are the objectives of the National Gas Grid?
Remove regional imbalance within the country, improve access to natural gas and provide clean fuel throughout the country.
Connecting gas sources to major demand areas and ensure the availability of gas to consumers in all the necessary sectors.
Development of City Gas Distribution Networks for the supply of CNG and PNG.
What is City Gas Distribution?
City Gas Distribution or CGD refers to transportation and distribution of natural gas to consumers in various demand sectors such as domestic, commercial, industrial and transport through a network of pipelines
A city gas distribution project consists of the following segments
Domestic household use;
commercial use in hotels, hospitals, restaurant and offices;
transport sector use in three-wheelers, buses, trucks and cars.
small scale industries for power generation.
What are the objectives of CGD?
City Gas Distribution (CGD) is a growing sector that aims to provide an uninterrupted supply of gas to domestic, transport and industrial customers in the form of PNG and CNG.
What is the institutional arrangement?
PNGRB grants the authorization to the entities for developing a City Gas Distribution (CGD) network under the Petroleum and Natural Gas Regulatory Board (PNGRB) Act 2006.
 What is the status of projects?
City Gas Distribution
Till 2017, only 19% of the country's population spreading over 11% of the country's area was covered for the development of CGDs in 96 geographical areas.
To boost the CGD sector, 9th CGD Bidding Round was launched in April 2018 for 86 Geographical Areas (GAs) covering 174 districts in 22 states and UTs
With the conclusion of the 10th round, the coverage of CGD networks will expand to about 70% country's population spreading over 50% of India's area.
     National Gas Grid
Authorized by Petroleum and Natural Gas Regulatory Board (PNGRB) and are at various stages of execution viz.
India's biggest gas utility Gail Ltd has said it was close to completing the 2,660 km (1,660 miles) Urja Ganga pipeline project, connecting the eastern states of Bihar, West Bengal, Jharkhand and Odisha.
The government had started building the northeast gas grid to connect eight states in north-eastern India, a region bordering Bhutan, Myanmar, Bangladesh and China which would be ready by 2023.
Why the City Gas Distribution and National Gas Grid are significant?
The current transport regime of natural gas is relatively costlier.
The energy policy of India envisages an increase in the consumption of domestic natural gas which will be cheaper with these projects.
Increasing costs of conventional fuel
Prices of petrol and diesel are increasing and that is creating inflation in other sectors too.
The natural gas (CNG) is 60% cheaper than petrol and 45% cheaper than diesel.
Environmental constraints
The Greenpeace and Air visual analysis of 2019 says that 22 of the most polluted cities in the world are in India.
The measure reason being vehicular pollution which contributes to urban air pollution significantly.
So, there is a necessity for exploring alternative energy resources that are cleaner and environment-friendly.
The present mode of gas supply is through cylinders which is a costly affair. CGD system uses a pipeline grid to transport the gas to distribution among consumers.
The nationwide CDG project and 27000 km long national Gas Grid will call for a huge investment in infrastructure.
According to the oil ministry reports, India's CGD (city gas distribution) programme along with CNG and PNG services has the potential to create nearly four lakh direct employment opportunities by 2027.
The CGD and NGG will open a Rs 22600 crore Make in India market for ancillary equipment support.
Towards a Gas-based economy
The government of India has made it clear that it is moving towards becoming a gas-based economy.
Presently, the share of gas in the country's energy mix is just over 6% and the aim is to reach 15% by 2020, while the world average is 24%.
India made a commitment in COP21 Paris Convention in December 2015 that by 2030 that it would reduce carbon emission by 33% of 2005 levels
India's commitment towards clean energy adoption in order to fulfill the INDCs to the UNFCCC requires faster adoption of natural gas as a primary source of energy and making it cost-effective.
What are the challenges in the implementation of the projects?
Most of the natural gas is imported.
Issues like supply choke due to West Asian scenario, global price rise the supply has been fluctuating
Low usage of cooking gas as a primary fuel.
Initial costs are bound to be higher in remote areas due to high infrastructure costs. So, addressing the vicious cycle of cost increase due to initial hiccups is a must.
Infrastructure penetration
High costs of infrastructure development in difficult terrain are a major issue.
The twin balance sheet issue is yet to be resolved.
The compensation to the landholders is a measure issue in the land acquisition process.
The deeper areas are only accessed through environmentally sensitive areas. Getting approval is a tedious process.
As petroleum is under the union list, various clearances by the state governments must be sought.
As the Grid is supposed to be a nationwide supply-chain, the safety side concerns would be higher in the wake of a weak maintenance regime in India.
What the government is doing?
The thrust on the Gas based economy is a welcome step.
The Hydrocarbon exploration and licencing policy aim to ease domestic gas production.
Adoption of a Discovered Small Fields (DSF) policy to offer to global investors discovered small fields of Oil and Natural Gas Corporation (ONGC) and Oil India Limited (OIL)
Freedom in marketing and pricing for gas produced from Coal Bed Methane(CBM) fields.
The PM Ujjwala Yojana to distribute 8 crore gas connections.
The thrust on CNG based public transport in urban areas
Reduction of basic customs duty on LNG from 5% to 2.5% in the 2017 budget to boost LNG demand in industrial and commercial sectors, especially power, petrochemical, fertilizer, and CGD.
Infrastructure Development
A capital grant of 40% is given for the development of 2,650 km-long Jagdishpur-Haldia & Bokaro-Dhamra natural gas pipeline.
connected the eastern and north-eastern parts of the country with the gas grid by developing the 2650-km Pradhan Mantri Urja Ganga project and the 1656- km North-eastern Region Gas Grid project.
The government will provide ₹10,500 crores as viability gap funding for laying pipeline in eastern and north-eastern India.
In order to provide user-friendly clean and green fuel CNG and PNG to the general public at affordable and reasonable rates, VAT rates may be reviewed and rationalized with a ceiling of 5%.
Way Forward
The draft city gas distribution policy must be speedily adopted by the states.
Around Rs 4 trillion is required to complete the natural gas distribution infrastructure. Various prospects like PPP, FDI, Infrastructure fund must be tried.
The CGD and NGG must be given infrastructure status to be able to garner funds.
The rational and fair pricing is the most important aspect otherwise the natural gas policy goes down the roads of the communication spectrum which is lying under a huge debt burden.
A 10% increase in Natural Gas consumption can reduce import bills by billions of dollars.
Practice Question for Mains
What is a Gas-based economy? Discuss the necessity and opportunities in becoming a major gas-based economy for India. (250 words)