Carbon Neutrality – Need, India's Position and Way Forward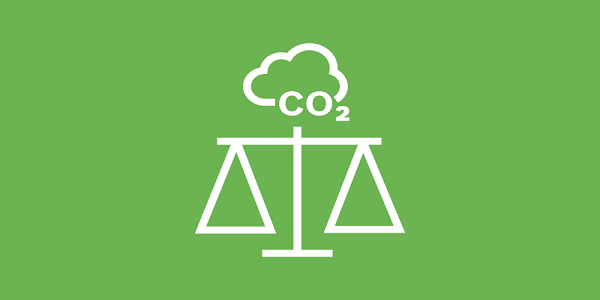 Carbon neutrality has been in the news for a few months now. There is a considerable discussion on how the world takes efforts to achieve this goal. At the same time, there has been considerable focus on India's future commitments and plans regarding the reduction of greenhouse gas emissions and when the country would achieve carbon neutrality or net-zero emissions as well. With the major powers like the USA, the EU and China announcing dates to achieve carbon neutrality, all the eyes are on India what decision it takes given its developmental and climate change mitigation objectives.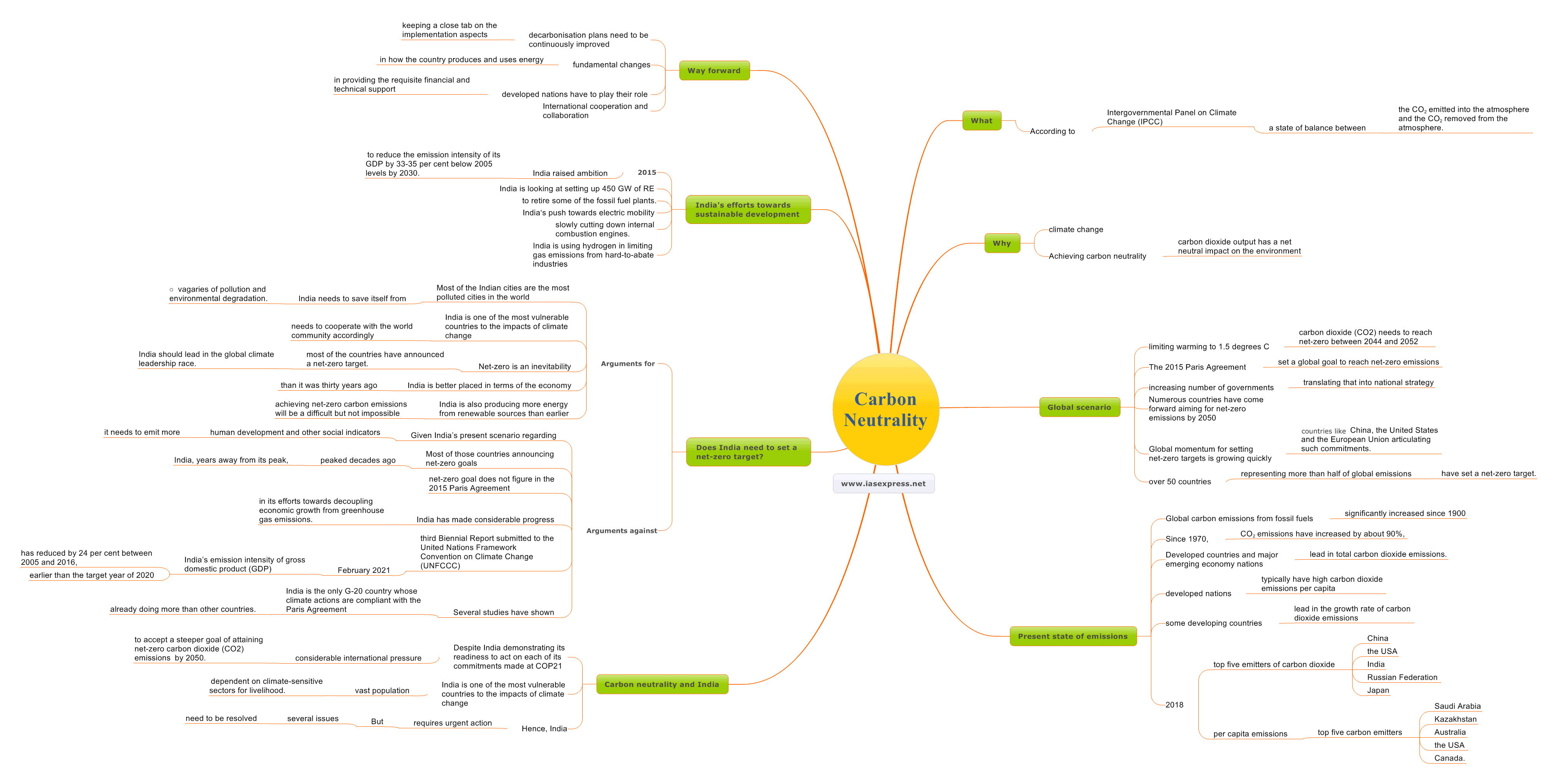 Mindmap Learning Programme (MLP)
Absorb information like a sponge!
What is carbon neutrality?
According to the definition of the Intergovernmental Panel on Climate Change (IPCC), carbon neutrality, or net-zero CO2 emissions, refers only to carbon dioxide emissions and is a state of balance between the CO2 emitted into the atmosphere and the CO2 removed from the atmosphere. In other words, it means having a balance between emitting carbon and absorbing carbon from the atmosphere in carbon sinks.
Why is it needed?
Greenhouse gasses like carbon dioxide increase average temperatures worldwide, which in turn contribute to rising sea levels, changing weather patterns and other factors associated with climate change. Achieving carbon neutrality means that our carbon dioxide output has a net neutral impact on the environment, and thus it can help stem the effects of climate change.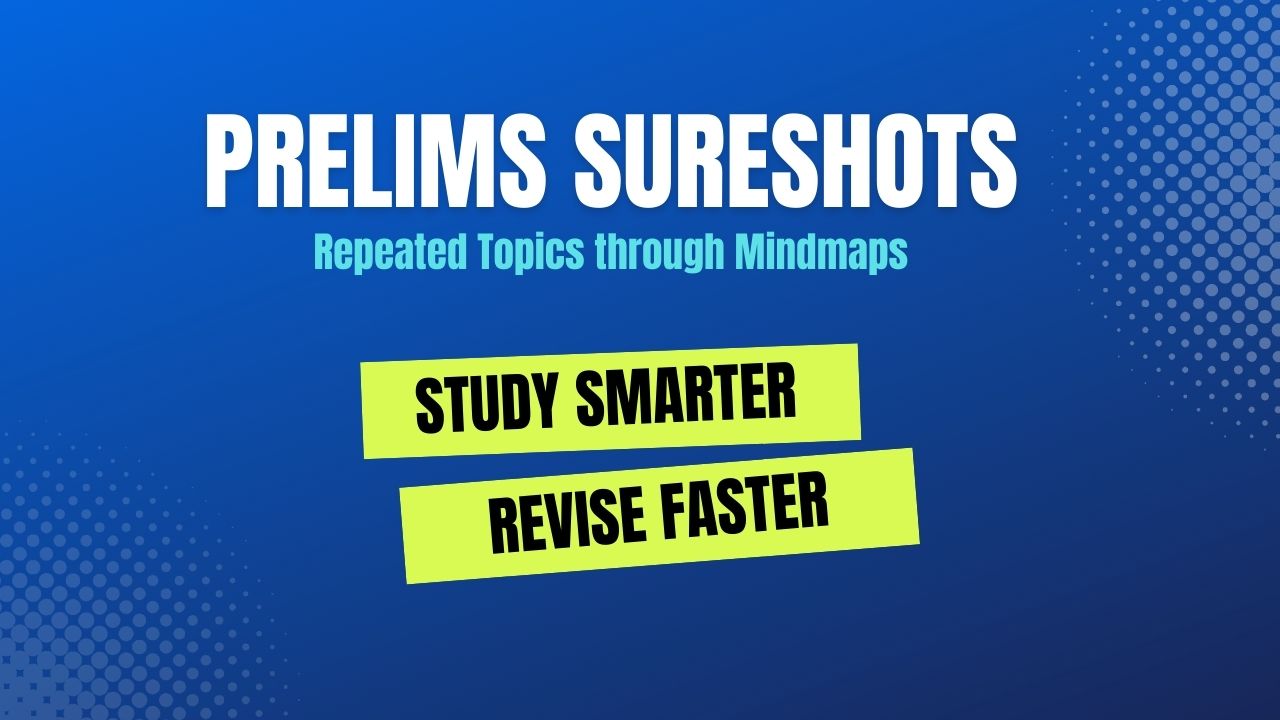 Global scenario
In scenarios limiting warming to 1.5 degrees C, carbon dioxide (CO2) needs to reach net-zero between 2044 and 2052, and total GHG emissions must reach net-zero between 2063 and 2068.
The 2015 Paris Agreement set a global goal to reach net-zero emissions in the second half of the century.
An increasing number of governments are translating that into national strategy, setting out visions of a carbon-free future.
Numerous countries have come forward aiming for net-zero emissions by 2050. This is aspirational and not always backed by domestic action.
Global momentum for setting net-zero targets is growing quickly, with key economies like China, the United States and the European Union articulating such commitments.
Now over 50 countries, representing more than half of global emissions, have set a net-zero target.
The present state of emissions
Global carbon emissions from fossil fuels have significantly increased since 1900.
Since 1970, CO2 emissions have increased by about 90%, with emissions from fossil fuel combustion and industrial processes contributing about 78% of the total greenhouse gas emissions increase from 1970 to 2011.
Developed countries and major emerging economy nations lead in total carbon dioxide emissions.
However, developed nations typically have high carbon dioxide emissions per capita, while some developing countries lead in the growth rate of carbon dioxide emissions.
In 2014, the top carbon dioxide (CO2) emitters were China, the United States, the European Union, India, the Russian Federation, and Japan.
In 2018, the top five emitters of carbon dioxide were China, the USA, India, Russian Federation and Japan.
However, if we look at per capita emissions, the top five carbon emitters in 2018 were Saudi Arabia, Kazakhstan, Australia, the USA and Canada. India ranks below twenty countries in per capita carbon emissions in 2018.
Thus, uneven contributions to the climate crisis are at the core of the challenges the world community faces in finding an effective and equitable solution to climate change.
Carbon neutrality and India
Despite India demonstrating its readiness to act on each of its commitments made at COP21, and fully backing this up with five years of concrete actions, there has been considerable international pressure of late to accept a steeper goal of attaining net-zero carbon dioxide (CO2) emissions or "carbon neutrality" by 2050.
The legality of such a demand upon India is not under question. The Paris Agreement does provide for nations to regularly ratchet up their obligations for reducing GRGs from the accepted de minimus Intended Nationally Determined Contributions (INDCs).
Additionally, one must recognise that India is one of the most vulnerable countries to the impacts of climate change — with its vast population that is dependent on climate-sensitive sectors for livelihood.
Hence, for India, adaptation is inevitable and requires urgent action. Simultaneously, it should continue to make its fair contribution towards mitigation as a responsible nation.
But before India chases a net-zero target, several issues such as power pricing reforms, the transition from coal to RE(renewable energy), alternatives for coal-dependent states and geopolitical factors need to be resolved.
Does India need to set a net-zero carbon emission target?
Arguments for

Most of the Indian cities are the most polluted cities in the world. India needs to save itself from the vagaries of pollution and environmental degradation.
India is one of the most vulnerable countries to the impacts of climate change. So, it needs to cooperate with the world community accordingly.
Net-zero is an inevitability; most of the countries have announced a net-zero target. Sooner or later, India needs to set a net-zero target. India should lead in the global climate leadership race.
India is better placed in terms of the economy than it was thirty years ago. So, it is in a position to set such a goal.
India is also producing more energy from renewable sources than earlier it used to. So, achieving net-zero carbon emissions will be a difficult but not impossible task to do.

Arguments against

Given India's present scenario regarding human development and other social indicators, it needs to emit more.
Most of those countries which are announcing net-zero goals have peaked decades ago, so there is a big gap between their peak and their net-zero deadlines. For India, which is still years away from its peak, this gap will be very small if India takes up a mid-century net-zero target.
The net-zero goal does not figure in the 2015 Paris Agreement, the new global architecture to fight climate change. The Paris Agreement only requires every signatory to take the best climate action it can.
India has made considerable progress in its efforts towards decoupling economic growth from greenhouse gas emissions.
According to the third Biennial Report submitted to the United Nations Framework Convention on Climate Change (UNFCCC) in February 2021, India's emission intensity of gross domestic product (GDP) has reduced by 24 per cent between 2005 and 2016, thereby achieving its voluntary goal to reduce the emission intensity of GDP by 20-25 per cent from 2005 levels, earlier than the target year of 2020.
Several studies have shown that India is the only G-20 country whose climate actions are compliant with the Paris Agreement goal of keeping global temperatures from rising beyond 2°C. It is already doing more than other countries.
India's efforts towards sustainable development
In 2015, India raised ambition in its nationally determined contributions (NDC) to reduce the emission intensity of its GDP by 33-35 per cent below 2005 levels by 2030.
India is looking at setting up 450 GW of RE and to retire some of the fossil fuel plants.
India's push towards electric mobility and slowly cutting down internal combustion engines.
India is using hydrogen in limiting gas emissions from hard-to-abate industries.
Way forward
India is in a unique position. While it has already initiated low carbon actions in various sectors, the decarbonisation plans need to be continuously improved and made more ambitious in the coming years while keeping a close tab on the implementation aspects. The transformation to net-zero emissions will require fundamental changes in how the country produces and uses energy. It has to expand and enhance electricity transmission and distribution networks; ramp up renewables investment; increase the use of hydrogen and bioenergy to decarbonise hard-to-abate sectors; develop a vibrant lower-carbon manufacturing industry, and harness the energy transition to drive wider sustainable development goals. However, the developed nations have to play their role in providing the requisite financial and technical support to India and other developing counterparts. International cooperation and collaboration may help the world to reach its goal of carbon neutrality.
Practise Question
Does India need to set a net-zero emission goal? Substantiate your answer with suitable arguments.