Biotechnology Sector in India – Scope, Challenges & Government Initiatives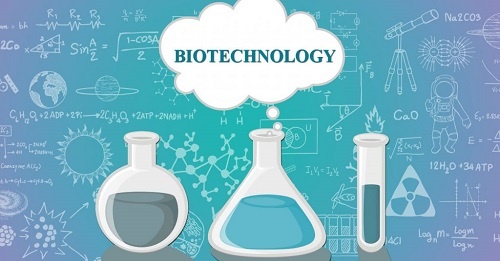 India's biotechnology sector has evolved steadily and significantly in the last two decades, growing at a Compounded Annual Growth Rate (CAGR) of 20%. The government is currently aspiring to reach the target of USD 100 billion by 2025. Indeed, India has always been a high-performer when it comes to this sector. Yet, there still exist several lacunae that need to be addressed for both achieving the target and also ensuring further development.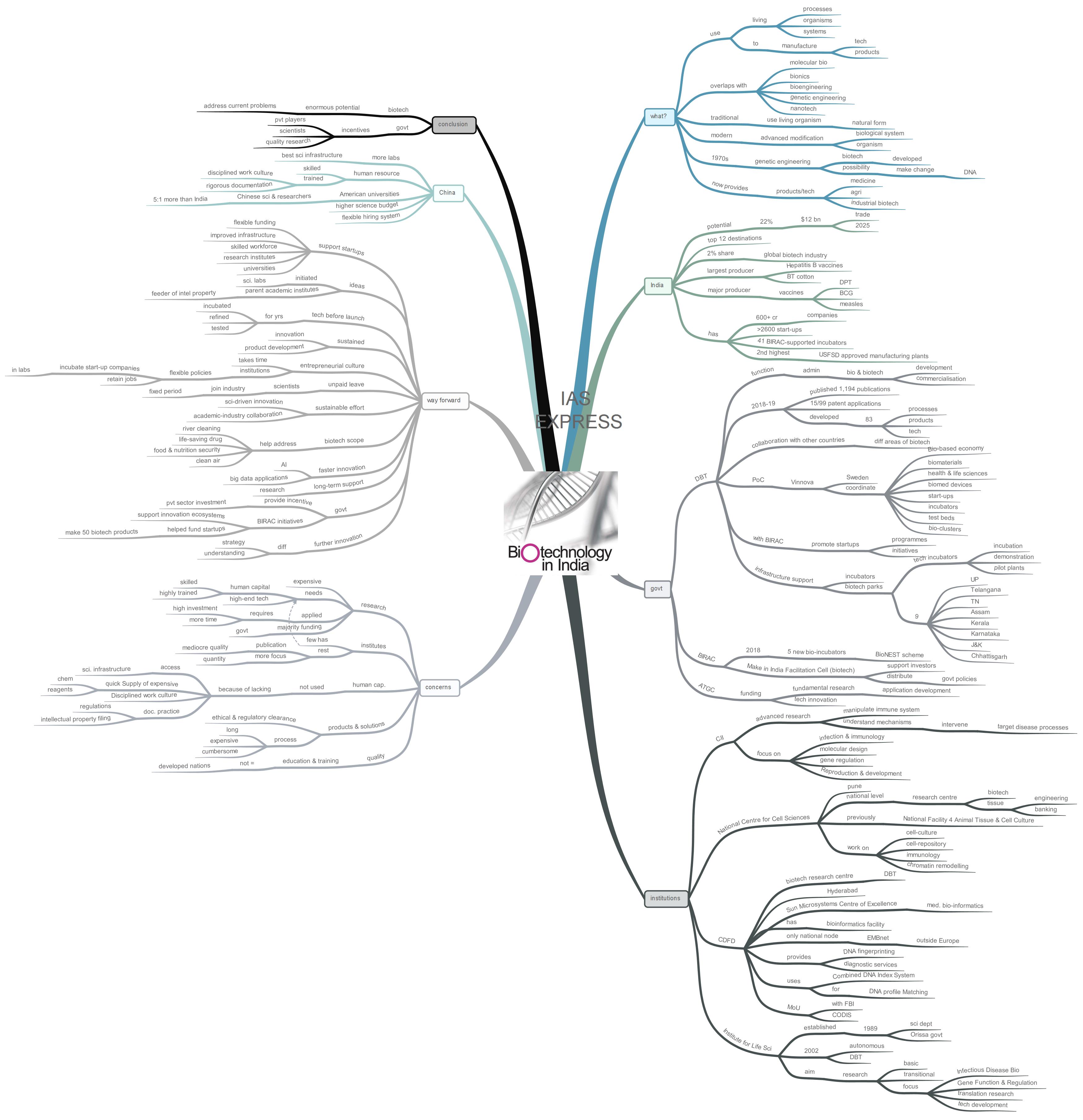 What is biotechnology?
Biotechnology is the area of biology that makes use of living processes, organisms or systems to manufacture products or technology to improve the quality of human life.
Depending on the technology, tools, and applications involved, biotechnology can overlap with molecular biology, bionics, bioengineering, genetic engineering, and nanotechnology.
Brewing and baking bread are some of the examples of the processes that come under the realm of biotechnology since these processes use yeast (a living organism) to produce desired products.
These traditional processes involve the use of living organisms in their natural forms.
The modern form of biotechnology involves advanced modification of the biological system or organism.
With the development of genetic engineering in the 1970s, research in biotechnology and other related areas developed rapidly because of the possibility to make changes in the organisms' genetic material (DNA).
Biotechnology currently provides for the new technologies and products in the areas of medicine, agriculture (genetically modified plants, biofuels and biological treatments) and industrial biotechnology (chemicals, paper, textiles and food).
The biotechnology sector in India:
Biotechnology is considered to the sunrise sector. It is believed that it may play a major role in achieving India's five trillion dollar target by 2025. This is because it has the potential to contribute about 22% of the 12 billion USD of Indian trade by 2025.
India is among the top 12 destinations for biotechnology in the world.
It has about a 2% share in the global biotechnology industry.
It is the largest producer of recombinant Hepatitis B vaccines and BT cotton.
It is also the leader in the global supply of DPT, BCG and measles vaccines.
The biotechnology industry in India comprises about more than 600 crore companies, more than 2600 start-ups and 41 BIRAC-supported incubators.
India has the second-highest number of US Food and Drug Administration (USFD)-approved manufacturing plants outside the US. The country has more than 523 USFDA approved drug manufacturing facilities.
Government Measures:
Department of Biotechnology (DBT) under the Ministry of Science and Technology is responsible for administering the development and commercialisation in the field of modern biology and biotechnology in India. It the year 2018-19, it has published 1,194 publications and 99 patent applications were filed and 15 patents were granted.
In 2018-19, the DBT has developed 83 new processes, products and technologies.
It is successfully coordinating with various countries to collaborate in different areas for biotechnology.
It has signed Programme of Cooperation (POC) with Swedish Government Agency for Innovation Systems (Vinnova), Sweden. The areas of cooperation include Bio-based economy, biomaterials, health and life sciences, biomedical devices, start-ups, incubators, testbeds and bio-clusters.
In order to promote the Startup India Initiative, DBT along with BIRAC has launched various schemes and programmes.
Biotechnology Industry Research Assistance Council (BIRAC), a public enterprise set up by the DBT, has developed 5 new bio-incubators during 2018 through BioNEST scheme.
Accelerated Translational Grant for Commercialisation (ATGC) has been launched to encourage technological innovation by providing funding opportunities for fundamental research that is aimed towards application development.
The DBT has established Biotechnology parks and incubators across the country to provide infrastructure support for the development of products and services.
The Biotechnology parks offer facilities to scientists and SMEs for technology incubation, technology demonstration and pilot plant studies for quicker commercial development of biotechnology. So far, the DBT has set up 9 parks in the various states and UTs – Uttar Pradesh, Telangana, Tamil Nadu, Assam, Kerala, Karnataka, Jammu and Kashmir and Chhattisgarh.
A Make in India Facilitation Cell (Biotechnology) has been established at BIRAC to provide support to investors and enable the distribution of government policies.
What are the institutions that deal with biotechnology in India?
National Institute of Immunology (NII):
This institute is committed in advanced research on the basic mechanism involved in the body's defence to identify ways to manipulate the immune system to protect it against diseases.
It is also involved in the research to understand the mechanisms that can be used to target disease processes through intervention.
The institute's focus area covers immunology and other related subjects. They come under four main themes:
Infection and immunity
Molecular design
Gene regulation
Reproduction and development
National Centre for Cell Sciences, Pune:
It is a national level, biotechnology, tissue engineering and tissue banking research centre.
It was previously known as "National Facility for Animal Tissue and Cell Culture".
It is one of the premier research centres, which work on cell-culture, cell-repository, immunology and chromatin remodelling in India.
Centre for DNA Fingerprinting and Diagnostics (CDFD):
It is a biotechnology research centre that is operated by the Department of Biotechnology, Ministry of Science and Technology.
Located in Hyderabad, it is Sun Microsystems Centre of Excellence in Medical Bio-informatics, supported with a strong bioinformatics facility, and is the only national node of the European Molecular Biology Network (EMBnet) outside Europe.
This institute also provides DNA fingerprinting and diagnostic services.
It uses the Combined DNA Index System for DNA profile Matching.
This institute and US FBI have signed an MoU for the acquisition of the CODIS.
Institute for Life Sciences:
It is an autonomous institute under the Department of Biotechnology, Government of India since 2002.
It was earlier established in 1989 and was under the administrative and financial control of the Department of Science and Technology, Government of Orissa.
It aims to embark on basic and translational research in the areas of life sciences.
Its research focuses on:
Infectious Disease Biology
Gene Function and Regulation
Translation Research and Technology Development
What are the concerns and challenges faced by the biotechnology industry in India?
Biotechnology research is expensive and requires a highly trained and skilled workforce. It also requires access to expensive, state of the art technology for growth and development.
So far, only a handful of institutions in India are better equipped with scientific infrastructure and the capacity to provide high-quality research.
The rest of the institutions, which form the bulk of the research publications, are of mediocre quality. This is because of the "publish or perish" culture within India.
India's scientific research focuses more on quantity rather than quality.
The success of the applied research is dependent on high investment in basic research without asking for quick returns.
Also, unlike in developed nations like the US, the majority of biotechnology research is funded by public exchequer. Unless the private sector starts supporting applied research and engages with academic institutions, the innovation in applied and transitional biotechnology will be minimal.
As for the human resource and jobs in the biotechnology sector, India has failed to create jobs despite the large pool of English speaking workforce and sizable institutional research base.
This may be due to the lack of:
Access to high-end scientific infrastructure for undertaking research,
Supply of expensive chemicals and reagents with minimum shipping time between the supplier and the user
Disciplined work culture and documentation practice due to the regulatory and intellectual property filing requirement.
Besides, unlike products and solutions in the IT sector, the biotechnology sector's products and solutions require ethical and regulatory clearance. This makes the process long, expensive and cumbersome.
Also, the quality of training and education in the field of biotechnology is not on par with those in the developed nations.
What can be the way forward?
Biotechnology start-ups must be supported through the availability of flexible funds, improved infrastructure and skilled workforce, top-notch research institutes and universities.
Unlike the IT and e-commerce industry, ideas for the biotechnology companies are initiated in the scientific research labs and their parent academic institutes work as feeders of intellectual property.
In this field, the technology is incubated, refined and tested for years in academic labs before it is launched. Therefore, unlike in the IT sector, a sustained innovation and product development model in the biotechnology field without enriching government institutions is not possible.
The government is taking steps to promote entrepreneurship in this sector. However, the culture of institutions and scientists to be entrepreneurial will take time.
Thus, a flexible policy in the institutions to allow scientists to incubate start-up companies in their labs while retaining their positions can ensure the promotion of entrepreneurship among the academics.
The government should also allow scientists from research institutes and universities to take unpaid leave so that they can join the industry for a fixed period.
Likewise, it should relax rules to appoint researchers from industry in faculty positions with the freedom to teach, participate and take students
This academia-industry linkage will ensure the much-needed communication and understanding of the problems at both ends.
Without a sustainable effort to encourage and promote science-driven innovation in the academic institutions, and robust academic-industry collaboration, biotechnology-led innovation will not aid economic growth.
Scope of biotechnology is huge. Discoveries in this field may help us solve some of the pressing issues like cleaning rivers, producing life-saving drugs, feeding the growing population with a clear focus of nutritional food and clean the air we breathe.
India can make use of artificial intelligence and big data applications to ensure faster innovation in the field of biotechnology.
Patience is also a vital tool in this sector because researches in this field mostly produce returns in the long-term basis. Therefore, the government must provide the necessary long-term support to the research institutes.
The government must also provide necessary incentives to the private sector to invest in this field.
Furthermore, this sector requires years of experience along with access to labs with sophisticated instruments, sustained and long-term funding to innovate.
The initiatives through BIRAC to support innovation ecosystems have resulted in impressive outcomes. For instance, the funding has helped start-ups to make 50 biotech-related products that are in the market today.
However, moving beyond this requires a different strategy and understanding through the nature of biotechnology-led innovation and economic ecosystems.
What can India learn from China?
China, unlike India, has many more labs with the best of scientific infrastructure.
China also has a far more skilled human resource trained in disciplined work culture. They are also well trained when it comes to rigorous documentation.
The Chinese students and scientists outnumber their Indian counterparts by nearly 5:1 in most of the American universities in the life sciences/biology-related disciplines.
China's higher science budget and flexible hiring system have made Chinese universities and research labs more attractive for overseas Chinese scientists.
India can take a leaf out of China's book to make the process of hiring in scientists and students in the universities and national labs simpler and flexible, not necessarily provide more salary, to attract bright overseas Indian scientists.
Conclusion:
The field of biotechnology has the enormous potential to address the current problems facing the country. The government should make use of this potential by providing incentives to the private players, the scientists and other parties involved to undertake quality research instead of just focusing on the numbers.
Test yourself:
Despite the measures taken by the government, the field of biotechnology still faces shortfalls in India. What are the steps that can be taken to address them?