[Editorial] 2023 Asian Games- What is behind India's Success?
The 19th Asian Games have recently concluded, filling India with immense pride due to its unprecedented success in medals. This isn't a simple stroke of luck but a reflection of India's long-term vision and investment in sports. While this achievement deserves applause, it also brings to the forefront the path yet to be traversed for India to cement its place as a sports powerhouse.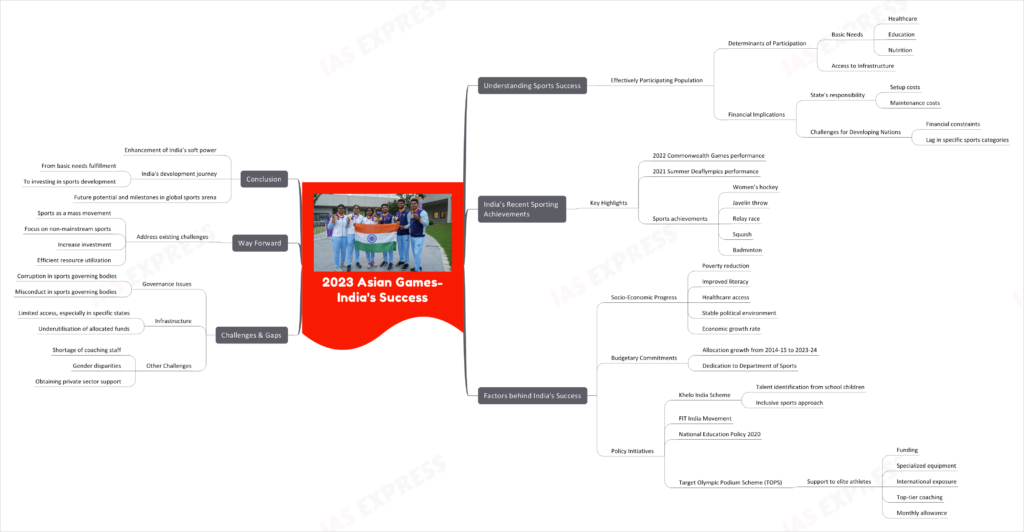 Understanding Sports Success
Effectively Participating Population: Rather than just population size, what impacts podium finishes is the effectively participating population. This is why countries with smaller populations like Japan and Australia often outshine larger nations in multi-sport events.

Determinants of Participation:

Basic Needs: People can only actively engage in sports when they have their primary necessities met, including healthcare, education, and nutrition.
Access to Infrastructure: Even with the capability to participate, the absence of sports infrastructure can hinder potential talent.

Financial Implications:

State's responsibility to bear both setup and maintenance costs for infrastructure.
Developing nations might find it tough to consistently invest due to financial constraints, leading to a lack in certain sports categories.
India's Recent Sporting Achievements
Key Highlights:

Strong performances across diverse sports in 2022 Commonwealth Games and 2021 Summer Deaflympics.
Promising outcomes in sports like women's hockey, javelin throw, relay race, squash, and badminton. copyright©iasexpress.net
Factors behind India's Success
Socio-Economic Progress: India's progression in crucial areas like poverty reduction, improved literacy, healthcare access, stable political environment, and economic growth rate has laid the foundation for its sports achievements.
Budgetary Commitments:

The Union Ministry of Youth Affairs and Sports' budget allocation has almost doubled from 2014-15 to 2023-24.
Majority of this budget is dedicated to the Department of Sports, signifying a commitment towards nurturing world-class talent.

Policy Initiatives:

Khelo India Scheme: A major scheme that has played a pivotal role in spotting talent from school children and making sports more inclusive.
FIT India Movement and National Education Policy 2020: Initiatives to promote sports culture from an early age.
Target Olympic Podium Scheme (TOPS): Provides comprehensive support to elite athletes.
Challenges & Gaps
Governance Issues: Cases of corruption and misconduct in sports governing bodies.
Infrastructure:

Limited access to high-quality sports infrastructure, especially in certain states.
Underutilisation of allocated funds, like in the case of Khelo India scheme.

Other Challenges: Shortage of coaching staff, gender disparities, and challenges in obtaining private sector support.
Way Forward
India needs to address the existing challenges to make sports a mass movement. The country has the potential to build on its recent successes, but it requires a comprehensive strategy. Enhanced focus on sports, especially the non-mainstream ones, more investment, and efficient resource utilization are crucial. copyright©iasexpress.net
Conclusion
India's rise in sports signifies not just victories in competitions but an enhancement of its soft power. India's story, from struggling to meet basic needs to now being able to invest in sports development, speaks volumes about its journey. While the journey till now has been commendable, with the right efforts, India can surely create more milestones in the global sports arena in the near future.
Practice Question for Mains
What are the factors behind India's recent success in sports? What more needs to be done? (250 words)