UPSC Prelims 2021 postponed to October 10, 2021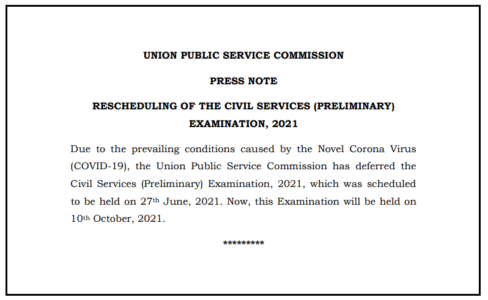 The UPSC has postponed the Civil Services preliminary examination from 27th June 2021 to 10th October 2021 due to the prevailing conditions caused by the Novel Corona Virus (COVID-19) pandemic. This development comes as a huge relief to lakhs of UPSC aspirants distressed by the pandemic. The UPSC has postponed other exams as well.
The date of Mains 2021 has not been scheduled yet. But aspirants may expect Mains 2021 to be conducted around January 2022, if last year trends are to be followed.
It has to be noted that, last year too, the Civil Services exam was rescheduled from May 31 to October 4. So far, the main written exam has been over. The interview was put on hold due to the rise in coronavirus cases.
Want to learn/revise 10X better & faster? Follow our integrated (static+current, prelims+mains) mindmap learning program here.