[Personality] Dinabandhu Mitra (1830-1873): A Literary Pioneer of Colonial Bengal
Introduction
Dinabandhu Mitra was a distinguished Bengali writer and dramatist. His legacy is deeply rooted in his profound contributions to Bengali literature, most notably for his play "Nil Darpan," which highlighted the struggles of indigo farmers and played a significant role in social reform during colonial India. Mitra's works not only reflected his literary prowess but also his deep understanding of social injustices and his commitment to depicting them through his writings.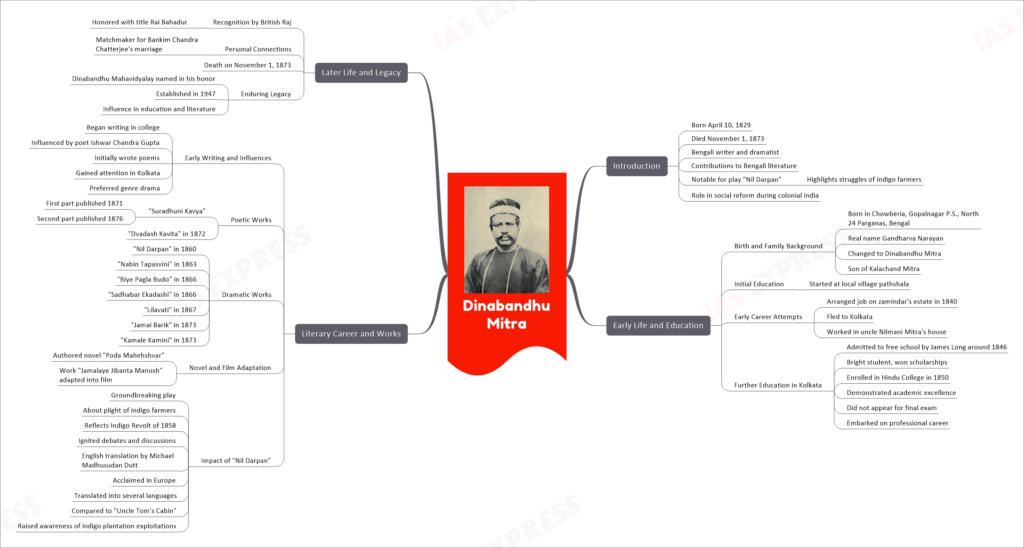 Early Life and Education
Birth and Family Background: Dinabandhu Mitra was born in 1829 in the village of Chowberia in Gopalnagar P.S., North 24 Parganas, Bengal. His real name was Gandharva Narayan, which he later changed to Dinabandhu Mitra. He was the son of Kalachand Mitra.
Initial Education: Mitra's education began at a local village pathshala (school).
Early Career Attempts: His father initially arranged a job for him on a zamindar's estate in 1840. However, young Mitra fled to Kolkata, where he started working in the house of his uncle, Nilmani Mitra.
Further Education in Kolkata: Around 1846, Mitra was admitted to a free school run by James Long in Kolkata. He was a bright student, winning several scholarships. In 1850, he enrolled in Hindu College, demonstrating academic excellence and earning scholarships there as well. However, Mitra did not appear for his final examination, choosing instead to embark on a professional career. copyright©iasexpress.net
Literary Career and Works
Early Writing and Influences: Dinabandhu Mitra began writing while still in college. Influenced by the poet Ishwar Chandra Gupta, he initially wrote poems that gained attention in Kolkata. However, drama was his preferred genre, a field where he excelled remarkably.
Poetic Works: Among his poetic works are 'Suradhuni Kavya' (with its first part published in 1871 and the second in 1876) and 'Dvadash Kavita' (1872).
Dramatic Works: Mitra's plays include 'Nil Darpan' (1860), 'Nabin Tapasvini' (1863), 'Biye Pagla Budo' (1866), 'Sadhabar Ekadashi' (1866), 'Lilavati' (1867), 'Jamai Barik' (1873), and 'Kamale Kamini' (1873).
Novel and Film Adaptation: He also authored a novel titled 'Poda Mahehshvar' and his work 'Jamalaye Jibanta Manush' was later adapted into a film.
Impact of 'Nil Darpan': Mitra's 'Nil Darpan' was a groundbreaking play about the plight of indigo farmers, reflecting the Indigo Revolt of 1858. It ignited significant debates and discussions soon after its publication, and its English translation by Michael Madhusudan Dutt further enhanced its reach. The play was widely acclaimed in Europe, translated into several languages, and drew comparisons to 'Uncle Tom's Cabin' for its role in raising awareness of the exploitations in indigo plantations.
Later Life and Legacy
Recognition by the British Raj: For his services during the Lushai Expedition, Dinabandhu Mitra was honored with the title of Rai Bahadur by the British Raj. copyright©iasexpress.net
Personal Connections: Mitra played a key role as a matchmaker in the marriage of the renowned Bengali writer Bankim Chandra Chatterjee and Rajlakshmi Devi.
Death: Dinabandhu Mitra passed away on November 1, 1873.
Enduring Legacy: In recognition of his significant contributions, Dinabandhu Mahavidyalay, a college established in 1947, was named in his honor, perpetuating his memory and influence in the field of education and literature.
Conclusion
Dinabandhu Mitra's life journey, from his early years in a Bengal village to his monumental impact as a writer and dramatist, reflects a profound dedication to literature and social change. His works, particularly "Nil Darpan," played a pivotal role in highlighting societal issues and igniting discussions on social justice during colonial India. Awarded the title Rai Bahadur and leaving a legacy that continues to inspire, Mitra's contributions to Bengali literature and society are indelible. His life and works remain a testament to the power of literature as a tool for social reform and awareness.