Things to Note:
Offline access: No download option / All contents can be accessed via our website/app only. But you can read the content offline with 6 months/more subscriptions. How?

Step 1: Open all the mindmaps with the internet once and close them.
Step 2: Turn off the internet.
Step 3: Open those mindmaps without internet now. It'll open till subscription expiry.
Offline works with chrome, firefox, and iasexpress app.

Number of devices: 2 simultaneous device logins (PC/Tablet/Mobile) are allowed per user account.
Available offers for you:
40% flash sale offer

(currently applied for you) ends soon! (automatically applied/no discount code needed!).
Get additional

5% discount

for adding both GS & Optional subscriptions to the cart (automatically applied at checkout/no discount code needed!).
What is a Mindmap
A mind map can turn a long list of boring information into a colourful, memorable and highly organized diagram that works in line with your brain's natural way of doing things.
A mind map is hierarchical and reflects relationships among pieces of the whole.
Whenever you make notes from books or newspapers, instead of writing paragraphs or bullet points, you can make a mind map for the big-picture analysis and better recall.
How to make a mind map?

Step 1: Write the main concept at the centre of the page.
Step 2: Write sub-topics around the main concept and link them together.
Step 3: Write the key points under each-subtopics.
Step 4: Mark relationship (if any) between different points in the mind map.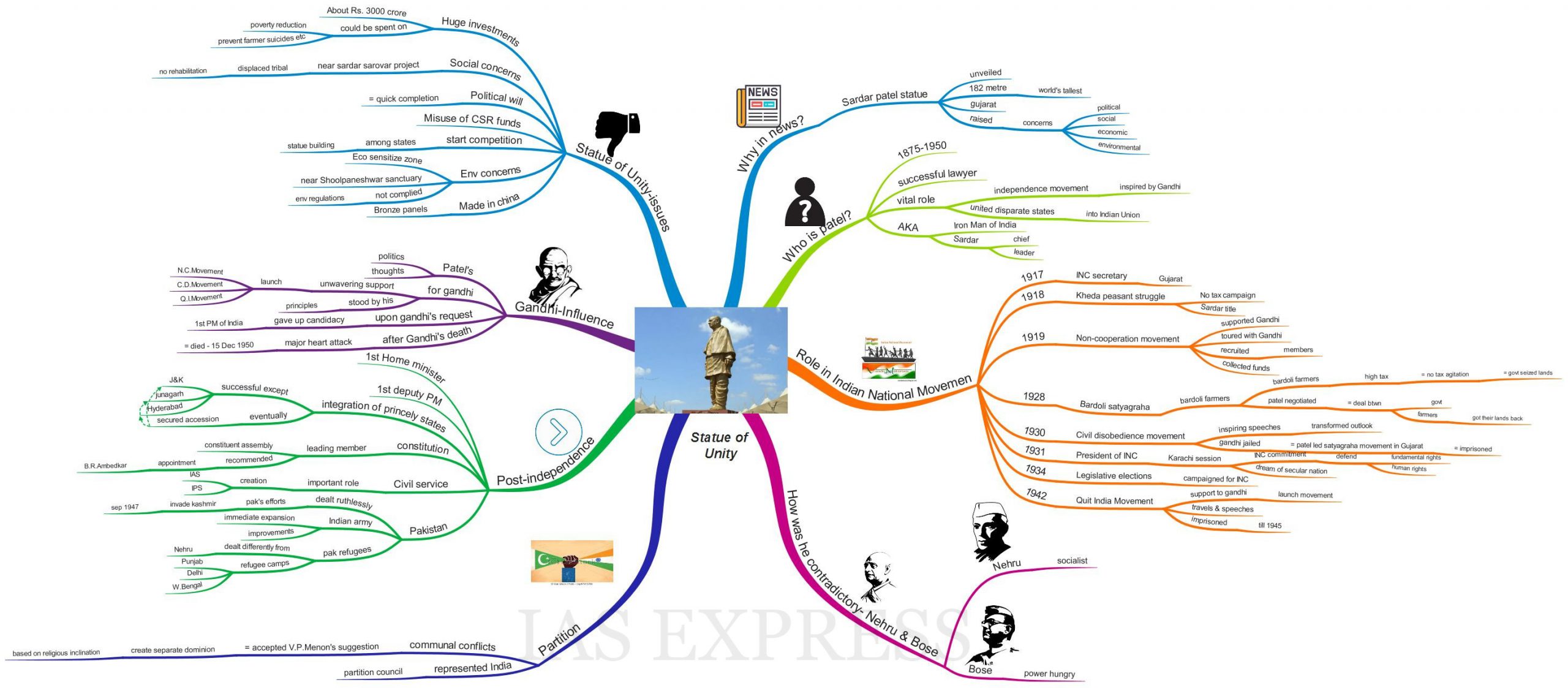 Above is the example mind map from our article on the statue of unity issue. Here,

Statue of unity – the Main concept
Why in news? Who is Patel? Etc – Sub-topics
Then the nodes that branch out from sub-topics are key points.
[collapse]
Features of this course
In-depth but easy to learn/revise through interactive & hierarchical mindmaps
Remember concepts for long-term
Add your own notes
Linkage with current affairs gives you updated info right away
Adhered to syllabus & previous year question patterns
[collapse]
Referred Sources
General Studies
Polity – Laxmikanth, DD Basu, Internet.
Economy – Ramesh Singh, Internet.
Art & Culture – Spectrum, Internet.
Geography – NIOS, NCERT, Internet.
Environment – NIOS, Shankar, Internet.
Ancient India – R.S. Sharma (old NCERT), Internet.
Medieval India – Satish Chandra, Internet.
Modern India – Bipan Chandra, Internet.
Post-independent India – Bipan Chandra, Internet.
World History – Tamil Nadu Board book, Internet.
International Relations – Internet.
Ethics – Lexicon, Internet.
Indian Society & Social Justice – NCERT, Internet.
Internal Security – News & research papers.
Disaster – News & research papers.
Governance – Internet.
Science & Technology – News sources.
[collapse]
Political Science (Optional)
IGNOU MA Notes
Political Theory by O P Gauba
Global Politics by Andrew Heywoods
VP Verma – Modern Indian political thoughts
etc
[collapse]
Anthropology (Optional)
Paper 1:
Physical Anthropology – P Nath
Anthropology Simplified- Vivek Bhasme
Anthropology – Ember and Ember
epg pathashala
ignou M.A Anthropology
Paper-II:
ignou M.A Anthropology
epg pathashala
January 2014 edition of Yojana- Tribal and Marginalized Communities
The Tribal Culture of India – LP Vidyarthi
Tribal India – Nadeem Hasnain
Indian Anthropology -Nadeem Hasnain
Anthropology Simplified – Vivek Bhasme
[collapse]
Geography (Optional)
Savindra Singh's Geomorphology
Savindra Singh's Physical Geography
Savindra Singh's Climatology
Savindra Singh's Oceanography
D.R khullar
Majid Hussain
Geographical thought by R. D Dikshit
Internet
[collapse]
Sociology (Optional)
Haralambos and Holborn (blue & orange )
IGNOU Material
Seeing sociology in everyday life by J.J.Macionis
Sociological theory – George Ritzer
Oxford Dictionary of Sociology
Research papers from the internet
[collapse]
Public Adminstration (Optional)
Booklist for Paper 1:
Mohit Bhattacharya: New Horizon of public administration
Administrative Thinkers by Prasad & Prasad
Comparative public administration: R.K Arora
Public administration by M. Laxmikanth
Public administration paper 1 by RB Aribam
Booklist for Paper – 2:
Indian public administration by Ramesh K Arora & Rajni Goyal
Public administration paper 2 by RB Aribam
Government reports (2nd ARC, Punchi Commission reports, NITI aayog recommendations )
Newspapers editorials
[collapse]
[collapse]
Search/ask for answers in the comment section below.